Wood grain is decorated wallboard color, light color is original wood grain
Log texture is a symbol of ecology, environmental protection, vitality, energy, through the grain changes of light and shade, in the high-tech porcelain technology, the subtle changes of nature show incisively and vividly. Tired of the hustle and bustle of the city, but have to stay in the hustle and bustle, this is the sorrow of many urbanites. The original wood grain wall board makes the decoration appear natural and relaxed, so that the space keeps the feeling of returning uncut jade to live in the home all the time, and provides quiet and slow space to the urbanite of annoyance.
Wood grain department decorates wallboard color 2, white department wood grain
The white wood grain surface is natural and harmonious, exudes a unique softness and romance, as quiet and beautiful as snow. The white of large area, add the combination of wood grain, often can build a bright, pure and fresh indoor space. Guileless white can let a space look more open, and added the ornament of weak wood grain, can let a space more sweet and have natural breath.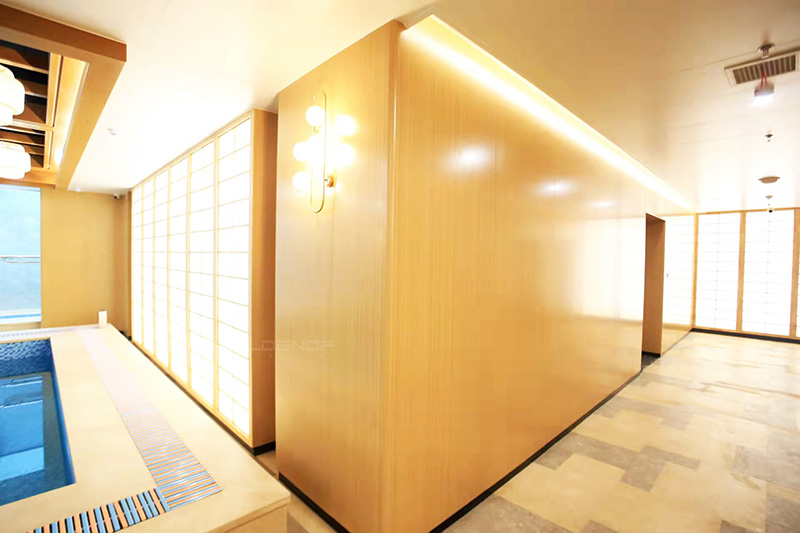 Wood grain department decorates wallboard color 3, brunet department wood grain
Dark wood grain depth degree of wood color texture calm atmosphere, with years of precipitation of elegant breath, revealing not common artistic taste, more highlight the pursuit of quality life, set off the elegant style of luxury elegant style. The dark wood grain is used in the home decoration, and the details of life are inadvertently revealed. The whole space is warm and steady, and full of its unique natural elegance.
Shandong iGolden Furniture Co., Ltd. was established in 2012 in Jinan City, Shandong Province which is one of the biggest professional manufacturers of furniture and board. Such as hospital furniture, bank furniture various customized office furniture,Aluminum honeycomb panel and compact laminate board. iGOLDENOF is a large-scale manufacturing enterprise integrating design, development, production and sales. In past ten years, IGOLDENOF has insisted on open-mindedness, solidarity, mutual assistance, hardworking, pragmatic and humble entrepreneurial spirit and the pursuit of excellence who has been highly recognized and appraised by customers from all over the world.