Handmade aluminum honeycomb panels are reasonably priced, aluminum honeycomb core is a porous structure, the hole occupies the vast majority of space, and the standard made with 0.1mm thickness of aluminum foil is light in weight and low in density:
The core layer of the honeycomb panel is a typical porous structure, and the continuous polygonal pores are placed periodically, so the cross-section area of the solid part of the honeycomb panel is very small, so its density is also very small compared with other sandwich data. Because the density of honeycomb panel is much less than laminate, steel plate and other general plate, its mass is light in volume phase.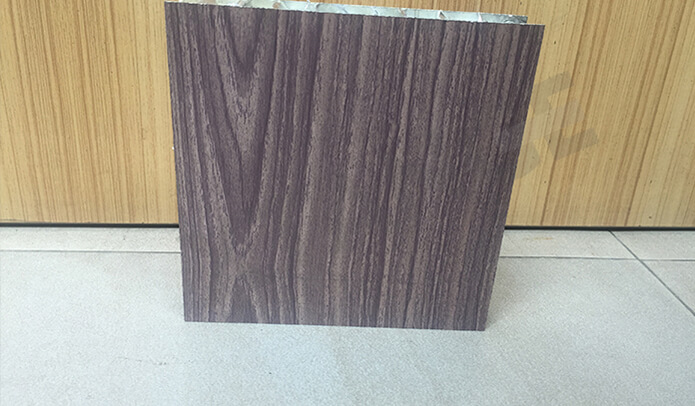 The mass of aluminum honeycomb panel is only 9% of the same volume of FRP laminate, 11% of the same volume of steel plate, 23% of the same volume of aluminum alloy plate. This allows the use of aluminum honeycomb panels in aircraft to save a lot of power. The low density and light weight make the honeycomb panel very good to meet the requirements of "lightweight, energy saving and environmental protection" for the data of aircraft and transportation vehicles used in aerospace engineering.
Than high strength, good rigidity, from the Angle of mechanics analysis, the structure of honeycomb panel is similar to many h beam to connect together, panel similar to h-beam flange, first under in-plane load effect, which is similar to the honeycomb core web h-beam, its primary effect is to withstand the shear stress and cohesion, support from top to bottom panel.
Shandong iGolden Furniture Co., Ltd. was established in 2012 in Jinan City, Shandong Province which is one of the biggest professional manufacturers of furniture and board. Such as hospital furniture, bank furniture various customized office furniture,Aluminum honeycomb panel and compact laminate board. iGOLDENOF is a large-scale manufacturing enterprise integrating design, development, production and sales. In past ten years, IGOLDENOF has insisted on open-mindedness, solidarity, mutual assistance, hardworking, pragmatic and humble entrepreneurial spirit and the pursuit of excellence who has been highly recognized and appraised by customers from all over the world.