Autoclave forming process of carbon fiber aluminum honeycomb panel
The carbon fiber aluminum honeycomb panel firstly adopts carbon fiber prepreg, the laying Angle of prepreg is 45°/0%/-45°/45°/0°/-45°, the longitude direction of prepreg fiber is 0° of sandwich structure, and the resin content of 48% prepreg is used as the core material adhesive layer to complete the prefabrication of upper and lower skin. After cutting and pasting, vacuum pumping and precompaction.
The combination of upper and lower skin prepreg and core material curing process is carried out on the flat die. After completion, it is put into autoclave for co-curing. The curing process is vacuumized to below -0.090MPa at room temperature, heating and heating at a rate not greater than 4℃/min, pressurizing (0.3±0.02)MPa at the same time, control the temperature to (110±5)℃, constant temperature for 30min, continue heating and heating, the temperature control is not more than 185℃, when the mold temperature rises to 180℃, It is necessary to keep the heat and pressure for 120min and cool to room temperature naturally to obtain the completed carbon fiber aluminum honeycomb panel.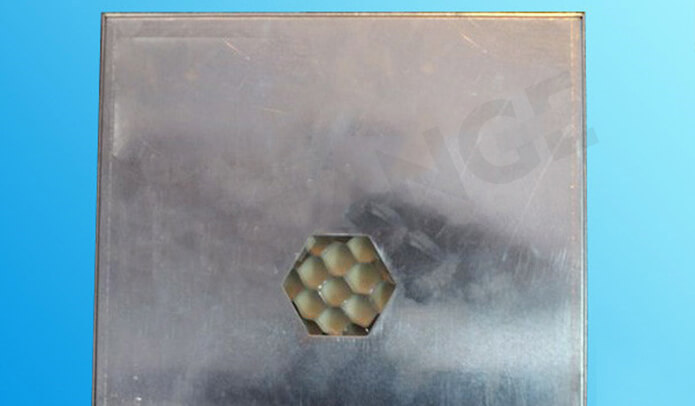 Shandong iGolden Furniture Co., Ltd. was established in 2012 in Jinan City, Shandong Province which is one of the biggest professional manufacturers of furniture and board. Such as hospital furniture, bank furniture various customized office furniture,Aluminum honeycomb panel and compact laminate board. iGOLDENOF is a large-scale manufacturing enterprise integrating design, development, production and sales. In past ten years, IGOLDENOF has insisted on open-mindedness, solidarity, mutual assistance, hardworking, pragmatic and humble entrepreneurial spirit and the pursuit of excellence who has been highly recognized and appraised by customers from all over the world.