Medical treatment cabinet is generally used in hospitals, hospital outpatient clinics, test organizations and other areas, hospital treatment cabinet is also known as medical cabinet, medical storage cabinet, medical cabinet, etc., in which there are two types of wall hanging treatment cabinet and column type treatment cabinet in style.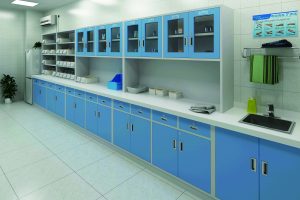 Treatment cabinet manufacturer
The medical treatment cabinet is made of steel, wood, laminated glass and so on. The medical treatment cabinet is customized for the application of hospital staff. The hospital furniture is made of high quality thick steel plate or wood plate. Conducive to device management methods, cleaning, suitable for a variety of medical functions, in line with the cleaning standards.
The hospital treatment cabinet has multiple open lift doors or sliding doors. The horizontal and vertical baffles in the inner layer are designed according to different main purposes, which is conducive to the storage of various surgical treatment test products and appliances according to the needs of medical staff. The inner body design scheme is simple and effective. According to customers' requirements, we can make various sizes of medical instrument cabinets in accordance with the provisions of the purification operation room. The key is instrument cabinet, drawer reagent cabinet, drawer instrument cabinet, tablet cabinet, slice cabinet and paraffin cabinet. Cooling tablet cabinet, gathering reagent cabinet, aseptic testing cabinet, fumigating wardrobe, disinfection cupboard, injection cabinet, door shoe rack, file cabinet, medicine cabinet, etc.
According to the material points, the key is stainless steel plate, stainless steel plate bottom electrostatic spraying, steel electrostatic spraying, wood, solid wood, etc.; According to the color, the key is all stainless steel plate color, dark blue, emerald green, gray, dark blue and gray two colors and a variety of electrostatic spray color, product color can maximize the profit to meet the requirements of customers.
Medical liquid dispensing cabinet is widely used in various hospitals, research rooms, schools, environmental health and medical communities, pharmacies, outpatient clinics and other categories. All in all, the medical instrument cabinets used in large and medium-sized hospitals are based on the basic principle of appropriate patients, so that patients feel happy. This also shows that for medical equipment manufacturers, the larger customer base of terminal equipment is still biased towards various hospitals.