The term definition of the desk: guide patients to the corresponding departments for medical treatment, judge the severity of the patient's condition and the professional attribution of the disease according to the main symptoms and signs of the patient, and arrange their treatment reasonably. Its functions are: Consultation, medical guidance, coordination and treatment of surrounding emergencies, disease triage and pre-examination triage for door (urgent) patients, patient management and services waiting for treatment, emergency treatment of the area set up the service workbench, is also the workstation of the medical guide. Let's take a look!
The role of the consultation desk in the hospital lobby
In modern hospitals, general hospitals will set up service desk, medical guidance desk, triage desk, floor nurse station, etc., while small hospitals and health centers will gather these functions of medical guidance, triage, consultation and other functions in such a workstation area, which is uniformly called "medical guidance desk".
With the development of modern medical and health services in China, there are more and more types of patients seeking medical treatment and hospitalization, and the medical model has undergone fundamental changes, from the original "disease-centered" biomedical model to the "patient-centered" biological, social and psychological medical model. As an institution to cure and save people, modern hospitals are "patient-centered" principle, and should emphasize doctor-patient communication, care and medical experience.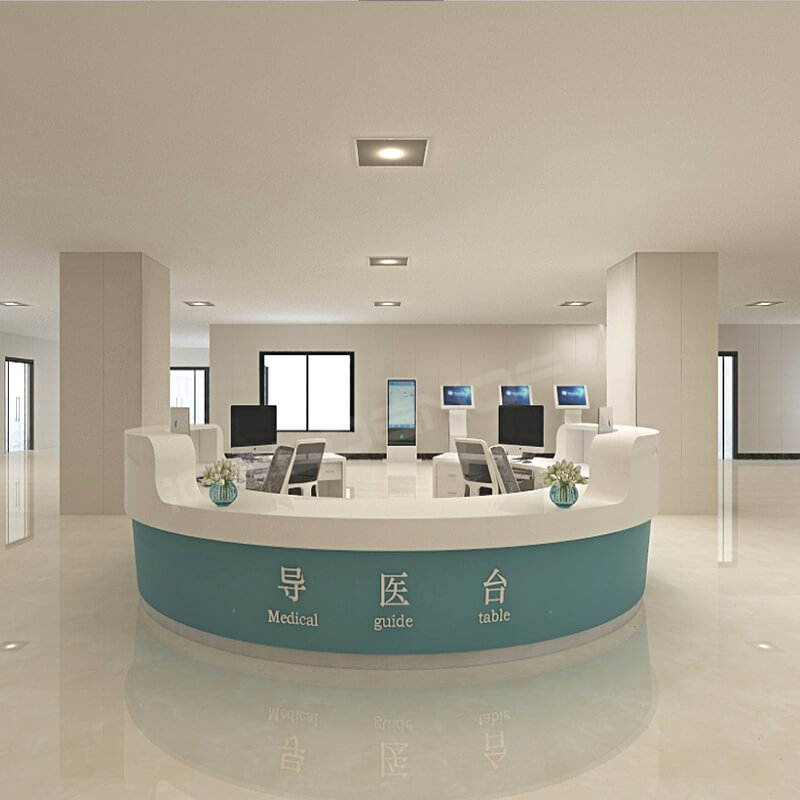 Whether it is a general hospital, a maternal and child health care hospital, a traditional Chinese medicine hospital, or a community health center, when we enter the foyer of the hospital, we can see a guiding desk with the guidance of the guiding staff. The hospital service desk in the outpatient hall is what we usually call "guiding desk", which can also be called guiding desk. It is the first window of the hospital's external services and the first impression of the hospital for patients and their families. Guiding nurses provide patients with consultation and guidance services in many aspects, such as disease classification, treatment procedure guidance, department orientation guidance, etc. The medical guidance activities completed in this "guiding table" area are the first stop for patients in hospital. Now hospital "leading examining table" has become an important and indispensable role, its service quality greatly affects the image of hospital and public satisfaction, therefore, do a good job in leading examining nurses the cultivation of comprehensive quality for patients to provide quality, efficient and convenient medical service, is a key issue to the construction and development of hospital.
Shandong iGolden Furniture Co., Ltd. was established in 2012 in Jinan City, Shandong Province which is one of the biggest professional manufacturers of furniture and board. Such as hospital furniture, bank furniture various customized office furniture,Aluminum honeycomb panel and compact laminate board. iGOLDENOF is a large-scale manufacturing enterprise integrating design, development, production and sales. In past ten years, IGOLDENOF has insisted on open-mindedness, solidarity, mutual assistance, hardworking, pragmatic and humble entrepreneurial spirit and the pursuit of excellence who has been highly recognized and appraised by customers from all over the world.