The key point of the design of the nurse station is to care about, close and elegant is the purpose of the design of the nurse station, in order to integrate it with the natural environment, so that the users in the room and the people nearby must feel safe and warm. Design plan wants novel atmosphere, reasonable layout is easy to use. Modeling design, color should be based on the natural environment and engineering construction to carry out professional design scheme. Let's take a look!
The key points of the nursing station design plan should be concerned
Nowadays, the design scheme is full of flowers, many design fashion has been introduced into the design scheme of hospital outpatient nurse station, which produces a new climate for hospital outpatient service. "Whether or not the nurses' stations are accessible is key, and this is reflected at two levels: first for the staff and second for the patients. Medical personnel's application should be reflected in the definition of small system partition convenient, convenient, standard as much storage space as possible; Make sure that patients or relatives are comfortable standing, taking into account the applicable rules for nurses station inquiries, etc. Natural, accessible applications for the disabled should be indispensable."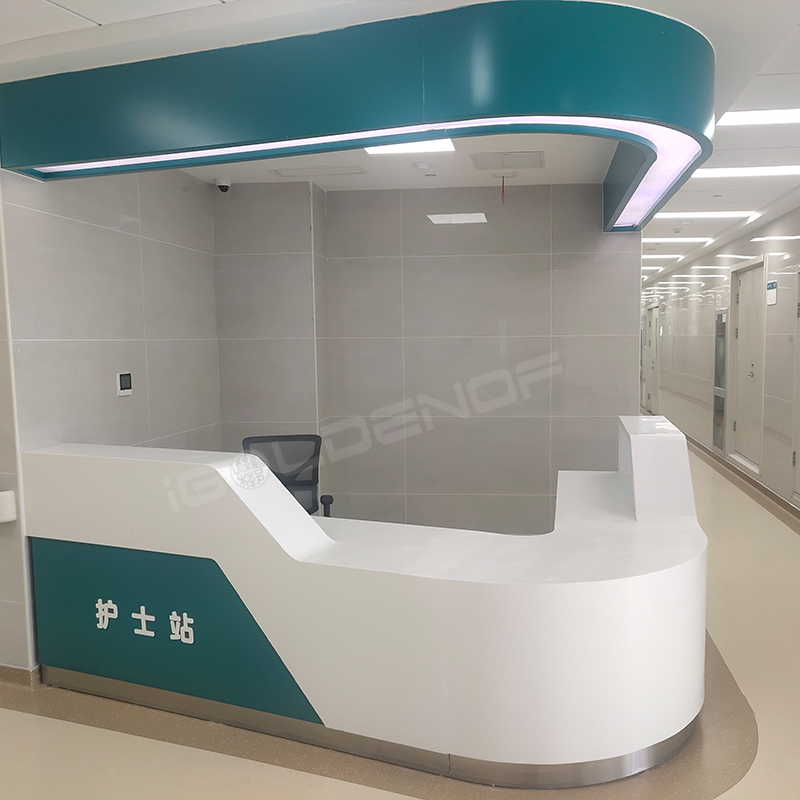 Development trend of the development of social development, the hospital outpatient service interior space explicitly put forward the higher regulation, DaoYi Taiwan nurse station slowly to break away from the interior decoration, systematic design and modern manufacturing let hospital outpatient enough to fly over to improve indoor environment, as a hospital outpatient service portal and visual brand image, tailor-made nurse station.
Hospital outpatient service nurse station not only take patients to entertain, ask, separation, then fill the action such as, or medical personnel key interior space, the work of the nurse station design versatility, with the hospital outpatient service within the natural environment and the overall color together, and according to the present medical equipment furniture design, delivery, such as one-stop service, Create a warm and comfortable natural environment for patients and staff.
Shandong iGolden Furniture Co., Ltd. was established in 2012 in Jinan City, Shandong Province which is one of the biggest professional manufacturers of furniture and board. Such as hospital furniture, bank furniture various customized office furniture,Aluminum honeycomb panel and compact laminate board. iGOLDENOF is a large-scale manufacturing enterprise integrating design, development, production and sales. In past ten years, IGOLDENOF has insisted on open-mindedness, solidarity, mutual assistance, hardworking, pragmatic and humble entrepreneurial spirit and the pursuit of excellence who has been highly recognized and appraised by customers from all over the world.