Nurse station design style|nurse station workbench design
On the one hand, the design of the nurse station table is the design of the appearance, which should follow the warm atmosphere. On the other hand, it should fully realize the functional partition and simple medical treatment process, which can help improve the efficiency of nurses' work, ensure the patients to seek medical treatment and referral happily, standardize the environment of the ward and improve the overall image of the hospital.
The design concept of the working table of the nurse station should follow the people-oriented and create a harmonious and convenient doctor-patient communication space as the goal. The design of nurse station workbench and medical guide table needs to meet the requirements of humanization. The first requirement of humanization is to conform to ergonomics, and the overall design should be convenient for doctors, nurses and patients to use. The humanization of nurse station workbench design needs to meet the needs of doctors, nurses and patients, especially nurse station workbench and medical guide table. For example, the design of the side table of the nurse station needs to be designed according to the average height of women in our country. In this way, it is more convenient for nurses to work and patients to see doctors.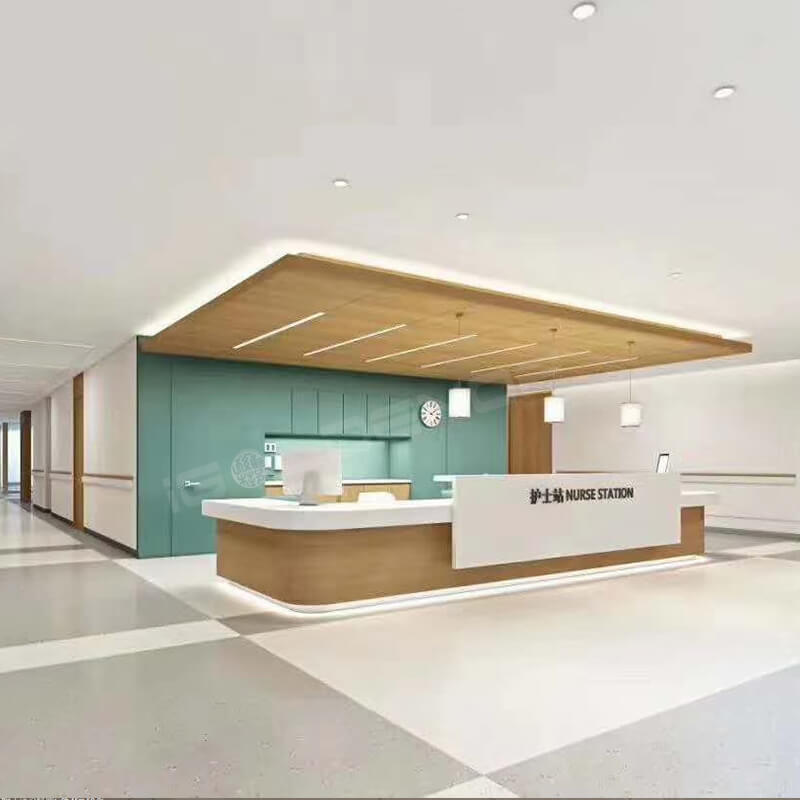 Nurse station workbench, medical guide table is the core position in the hospital, carrying the patient consultation, consultation, treatment and referral, registration, inquiry and other functions, in the function to achieve intelligent service system, patients and patients' families can self-help tour, query medical procedures, can handle a cartoon, industrial consulting services. The hospital nurse station workbench and medical guide table represent the image and grade of the hospital. The design should be measured according to the actual size of the hospital nurse station. The colors are rich, warm and beautiful, and the beauty and functionality should be combined skillfully, which should be unified in the overall decoration style of the hospital.
Shandong iGolden Furniture Co., Ltd. was established in 2012 in Jinan City, Shandong Province which is one of the biggest professional manufacturers of furniture and board. Such as hospital furniture, bank furniture various customized office furniture,Aluminum honeycomb panel and compact laminate board. iGOLDENOF is a large-scale manufacturing enterprise integrating design, development, production and sales. In past ten years, IGOLDENOF has insisted on open-mindedness, solidarity, mutual assistance, hardworking, pragmatic and humble entrepreneurial spirit and the pursuit of excellence who has been highly recognized and appraised by customers from all over the world.