The treatment room and disposal room are used for medical treatment, such as dressing change, anti-inflammatory, dressing, etc. The patient enters the treatment room himself or with the help of others. Doctors or nurses work together to make patients sit, lie or take special positions according to their needs.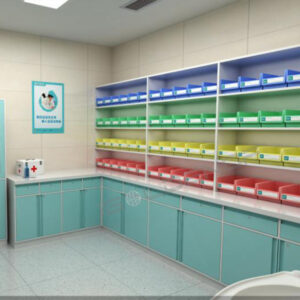 With the constant change of therapeutic environments, accurate and rapid goods supply and recovery methods are considered a matter of course. To adapt to such change in environment, recommendation of the matching original parts of goods is also a solution. Conditions such sa containerization of apparatus, progress in supprting machine, placement of goods and medicine in different groups, fixed position, complete, and clear handwriting have become general requirements in treatment room
This styling is a good way to assist nurses in their daily care work, and it is easy to check and manage the long-term and temporary medical advice issued by doctors and manage them.
Medical cabinets are generally close to the ground cabinets, with more design space and flexible use of multiple storage spaces.
The waterproof, fireproof and anti-corrosion type cabinets are classified into medical cabinets, that is, hospital cabinets.
Shandong iGolden Furniture Co., Ltd. was established in 2012 in Jinan City, Shandong Province which is one of the biggest professional manufacturers of furniture and board. Such as hospital furniture, bank furniture various customized office furniture,Aluminum honeycomb panel and compact laminate board. iGOLDENOF is a large-scale manufacturing enterprise integrating design, development