The design of the nurse station bench needs to consider patient care and the context as a functional workspace. On the one hand, the psychological response to relieve the pain of patients can make them actively deal with the negative impact of the disease; On the other hand, the nurse station workbench is the platform for case registration, patient consultation and other functions.
Nowadays, the function of the nurse station workbench is gradually expanding, making it become a department or the central control room of the first floor ward, realizing the control of the modern facilities and equipment in the ward, and assuming the important role of the nursing unit.
The design of the nurse station bench should follow the following principles: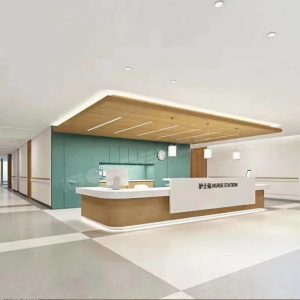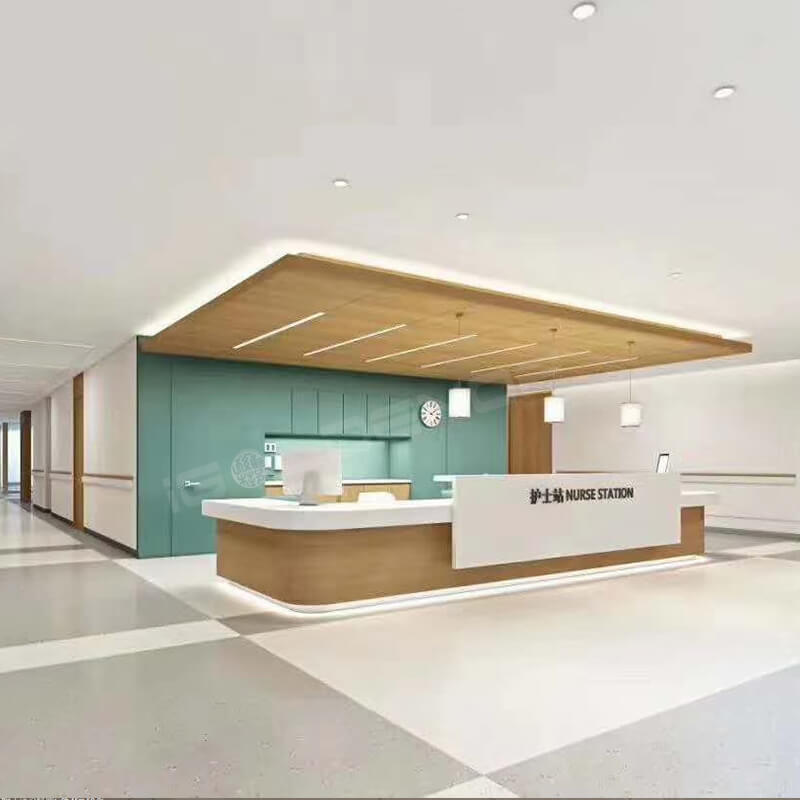 Reasonable nursing radius, easy to take care of each ward;
The line of sight should be accessible and easy to observe the activities of each ward in the nursing unit;
Good ventilation and lighting;
According to ergonomics, the nurse station workbench needs to be equipped with 800mm and 1100mm double-layer countertops, and 800 high countertops are used locally, which is convenient for patients to sit and consult and fill in documents. The 1100 high table is convenient for patients and family members to stand and write. Moreover, nurses have a relatively quiet work recording area. With a height difference of 300mm, some files can be stored to keep the table clean and tidy.
Nurse station workstation location in nursing unit:
First, it is common to place the nurse station in the center of the nursing unit. With the nurse station as the core, all the wards are arranged around the nursing unit. Medical staff can easily reach each ward for patient observation. This arrangement is suitable for strip nurse station plane and is widely used in practical engineering.
2. The nurse station is located at the entrance of the nursing unit, which is conducive to the management of the entrance and exit of the nursing unit, preventing the entry of miscellaneous personnel, reducing the cross infection of patients in each ward, and facilitating the consultation of visitors. The disadvantage is that the nursing radius is long, some wards are far from the nurse station.
3. A nursing unit has two or more nursing stations, which are divided into different nursing groups and are closely connected with the ward. This nursing mode has short distance and high efficiency.The disadvantage is that more nursing staff are needed and the management of medical staff is more demanding.