Custom production of furniture disposal cabinet in hospital outpatient department
Whether the area of the disposal room is large or small, customized disposal cabinet has long been a major trend in modern times. Shandong Guozhijing specializes in customized hospital furniture such as nurse station, medical guide table and disposal room. You only need to put forward your requirements, we can give you a comfortable medical environment.
Furniture industry has a long history, rapid development, a large number of furniture, coupled with a huge demand for furniture, can be mass production. Hospital furniture manufacturers, such as disposal room, treatment cabinet, nurse station and guidance table, have won public praise and impression early, which will cause many details problems in the furniture produced by traditional medical furniture companies.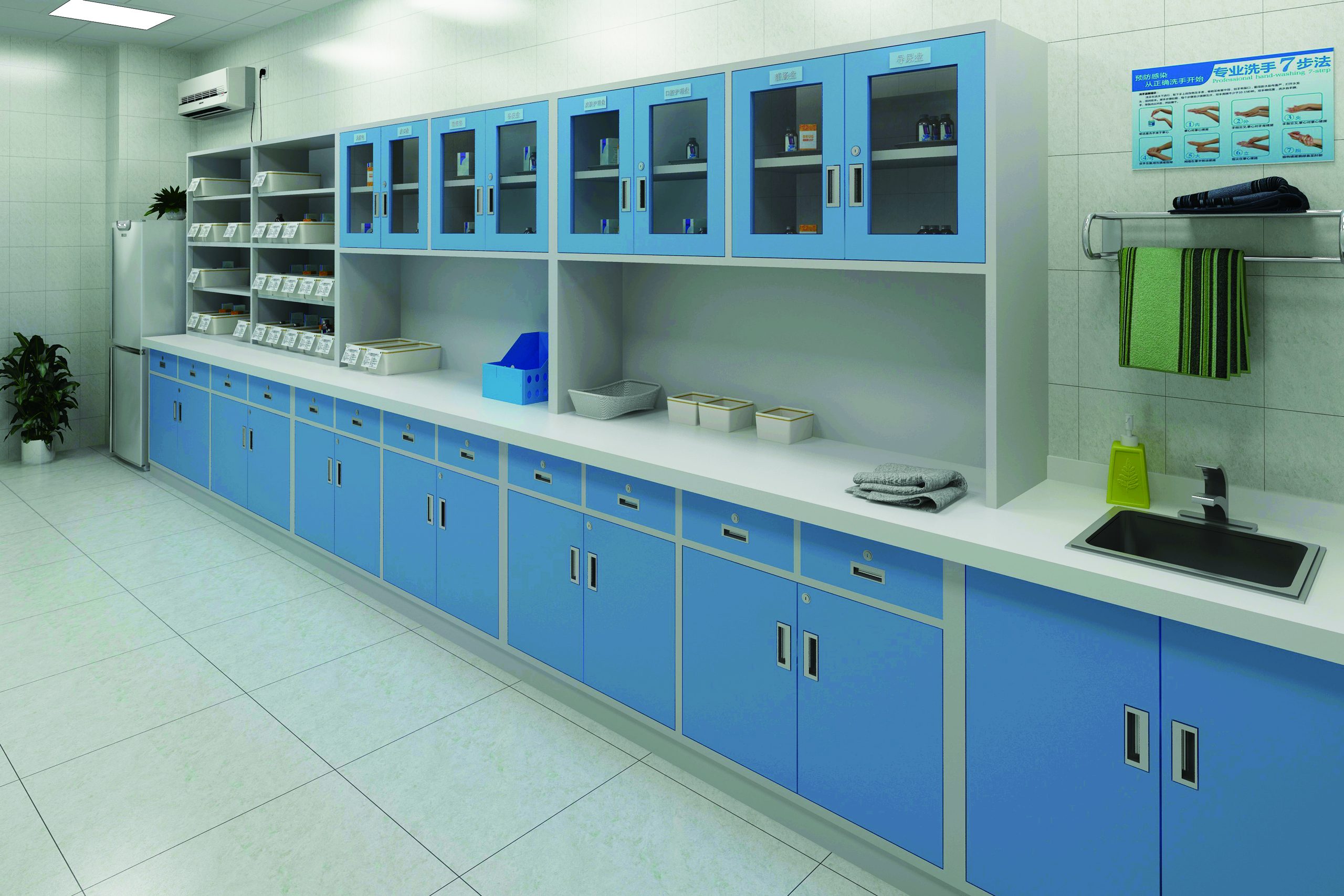 The hospital treatment room and other furniture customization needs door-to-door measuring scale, design, people-oriented design, placement, according to the different types of hospital and the crowd tailored design. Just like a piece of clothing, tailored clothing is sure to fit your body, be comfortable and beautiful. As for the finished products purchased in stores, although the clothes are beautiful on the models, the beautiful clothes are not always able to make you beautiful because of the difference in body shape and banner of each person.
The disposal room is arranged between the treatment room and dressing change room, and the contaminated area and medium contaminated area are divided. All kinds of sewage tubes are placed on one side of the treatment room, and the used disposable syringes, cut infusion tubes, waste blood bags, dirty gauze and cotton balls for dressing change are put into each tube respectively. A rectangular window of 40cm×30cm was opened 80cm above the ground on the public wall of the treatment room and the treatment room, which was sealed with an aluminum alloy sliding door. The ampoules, paper boxes, cotton balls, etc. discarded by the nurse when dispensing liquid medicine on the treatment table fell into the sewage container in the disposal room through this window. On the other side of the disposal room, immersion barrels for initial disinfection such as replacement, oral care products and aerosol inhalation catheter are placed respectively. In this way, it not only keeps the treatment room and dressing room clean, but also conforms to the principle of garbage classification.
Shandong iGolden Furniture Co., Ltd. was established in 2012 in Jinan City, Shandong Province which is one of the biggest professional manufacturers of furniture and board. Such as hospital furniture, bank furniture various customized office furniture,Aluminum honeycomb panel and compact laminate board. iGOLDENOF is a large-scale manufacturing enterprise integrating design, development, production and sales. In past ten years, IGOLDENOF has insisted on open-mindedness, solidarity, mutual assistance, hardworking, pragmatic and humble entrepreneurial spirit and the pursuit of excellence who has been highly recognized and appraised by customers from all over the world.