In the medical industry, the hospital disposal room is an essential medical tool, reasonable disposal cabinet customization can reduce the working pressure for the hospital nursing industry, but also provide convenience for the medical staff in the process of work. Compared with the use of medical equipment, hospital furniture can be underestimated, but its practical value is very high, without its existence, there will be problems and difficulties in the hospital. Let's take a look!
Hospital disposal room furniture production technology
With the development and progress of The Times, the reform of the medical system, and the progress of hospital equipment and environment, hospital furniture is no longer special medical devices or laboratory furniture. In fact, today's hospital furniture has been integrated with hospital office furniture, civil furniture, laboratory furniture and other varieties. The variety of raw materials in the hospital treatment room, solid wood, plate, steel, stone and other raw materials are used independently or mixed.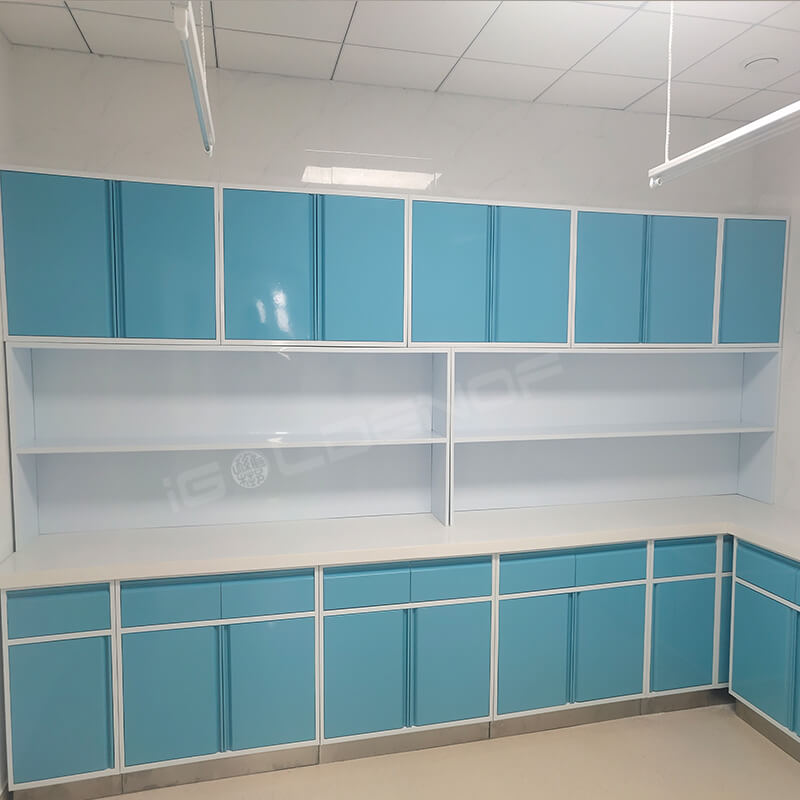 The production technology of steel hospital treatment room is to paste the steel office furniture skin of natural solid steel on the surface of the board furniture made of particleboard or MDF, and the furniture produced by this technology. It's steel furniture, leather and board furniture. Its advantage is that its appearance is as beautiful as solid steel furniture, with natural lines; The defect is slightly worse than solid steel furniture in environmental performance.
Hospital treatment room furniture surface adopts electrostatic spraying process, antibacterial powder has corrosion resistance, acid and alkali resistance, wear resistance, fire and other characteristics, hospital furniture edge adopts seamless bending connection, so that not only customers prevent the infiltration and spread of bacteria, and dirt is difficult to accumulate on it. Hospital furniture surfaces are easy to clean and more durable.
Shandong iGolden Furniture Co., Ltd. was established in 2012 in Jinan City, Shandong Province which is one of the biggest professional manufacturers of furniture and board. Such as hospital furniture, bank furniture various customized office furniture,Aluminum honeycomb panel and compact laminate board. iGOLDENOF is a large-scale manufacturing enterprise integrating design, development, production and sales. In past ten years, IGOLDENOF has insisted on open-mindedness, solidarity, mutual assistance, hardworking, pragmatic and humble entrepreneurial spirit and the pursuit of excellence who has been highly recognized and appraised by customers from all over the world.