Excellent performance of hospital wall panels
1. Environmental protection and health, no formaldehyde and other harmful gas release, the highest can reach the European E0 standard;
2. Waterproof, moisture-proof, mildew proof, antibacterial, hospital wall panels on both sides and core materials are using special thermosetting resin, so that the material is not affected by the adverse effects of wet environment, weather, mildew, corrosion effect, can be used in the wet, need a high degree of clean and acid and alkali corrosion resistance environment;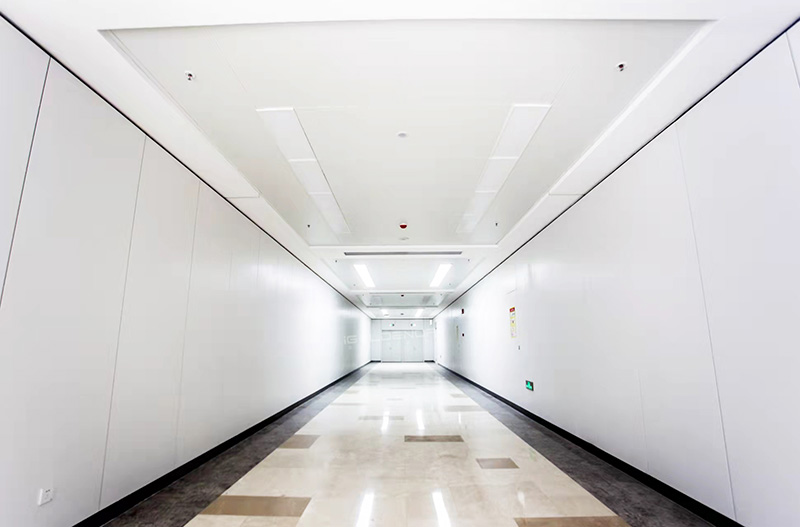 3. Chemical corrosion resistance, wet disinfection, such as acetone, xylene and other organic solvents and similar substances have a strong resistance, decoration is also resistant to disinfectant, chemical cleaners, juice and dye erosion, the surface and performance are not affected;
4. Surface wear resistance, scratch resistance according to the BSEN438-2/91 experimental proof, especially suitable for use of high frequency places, such as offices, schools, hospitals and other public places.
5. Impact resistance and impact resistance, with an integrated safety Angle, the impact resistance of the hospital wall panel comes from its high elastic modulus, tensile strength and flexural strength. The homogenous and high density core material gives the high pulling strength of anchor parts to the hospital wall panel. This performance is especially important for decoration with bolt or plug-in invisible installation.
6. Fire resistance, according to the actual needs of the hospital wall panel has A grade and B grade two fire level for users to choose, the surface of the hospital wall panel and burning cigarette butt contact without damage, decoration will not catch fire or peel off. Based on BSEN438-2/91, it will not melt, drop or explode in fire, and can maintain stability for a long time.
7. Anti-static, according to the actual demand, according to DIN51-953 and DIN53-482, the hospital wall board is designed as an anti-static material.
8. Radiation protection. According to the actual demand, the wall board of the hospital is designed to be unable to be passed through by X-ray, so it is also used in the medical department.
9. Hospital wall panels are easy to process, splice and fix, with the same dimensional stability and workability as hardwood;
10. Authentic hospital wall panels are especially easy to install, change and disassemble. The design of hospital wall panels is universal and interchangeable, which can be reused.
11. Easy to clean, self-cleaning function, the maintenance cost is low, the hospital hang wallboard of dense non-porous surfaces don't absorb dust, that is to say, can be cleaned easily, due to have good resistance to chemical corrosion, so you can use it for general cleaning or strong corrosive disinfectant to clean the same ground trace organic solvent can also be used to remove. This has no effect on the colour of the decoration.
Shandong iGolden Furniture Co., Ltd. was established in 2012 in Jinan City, Shandong Province which is one of the biggest professional manufacturers of furniture and board. Such as hospital furniture, bank furniture various customized office furniture,Aluminum honeycomb panel and compact laminate board. iGOLDENOF is a large-scale manufacturing enterprise integrating design, development, production and sales. In past ten years, IGOLDENOF has insisted on open-mindedness, solidarity, mutual assistance, hardworking, pragmatic and humble entrepreneurial spirit and the pursuit of excellence who has been highly recognized and appraised by customers from all over the world.