Children's Hospital furniture is full of playful design
I used to catch colds as a child and shuddered at the thought of going to the doctor — the pungent smell of disinfectant, the ghastly gleam of slender needles, the unsmiling doctors in white coats.
Kids today are different, and they can have a completely different experience of seeing a doctor. For example, pediatric clinics designed like this.
The colour of metope is very downy, furniture also is designed cabinet chic.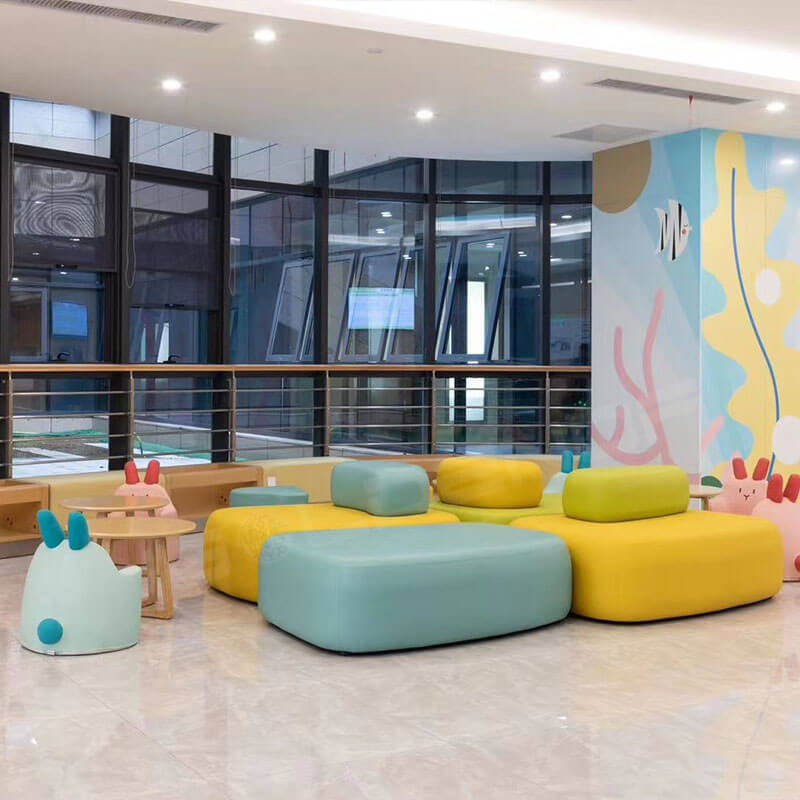 The waiting area is also a children's activity room. The walls are covered with wallpaper, and children's sofa chairs and booth sofas are designed without sharp corners, fully respecting children's active nature and ensuring their behavior safety.
The clinic is also full of children's fun. Blocks and dolls, tree wall stickers, and this animal bed that I want to lie on as an adult. Children's fun environment can not cure disease, but can "cure" children's tension, anxiety, fear and other bad emotions. That's why this pediatric clinic in Foshan has also adopted a playful design. The entrance to the clinic is a glass wall. The interior design of the pediatric clinic is very simple, but the nurses' station area boldly adopts the curved space division method, which makes the space interesting. To make sick kids a little more fun, outpatient waiting chairs are designed to look like school buses. Of course, safety is also a key point in clinic design. Door handles, for example, were raised to prevent accidental bruise caused by children moving around during visits. Hand disinfectors were installed at the entrance to the clinic to urge people to pay attention to hand hygiene and reduce the risk of cross-infection.
Shandong iGolden Furniture Co., Ltd. was established in 2012 in Jinan City, Shandong Province which is one of the biggest professional manufacturers of furniture and board. Such as hospital furniture, bank furniture various customized office furniture,Aluminum honeycomb panel and compact laminate board. iGOLDENOF is a large-scale manufacturing enterprise integrating design, development, production and sales. In past ten years, IGOLDENOF has insisted on open-mindedness, solidarity, mutual assistance, hardworking, pragmatic and humble entrepreneurial spirit and the pursuit of excellence who has been highly recognized and appraised by customers from all over the world.