Bank solid wood office furniture basic structure
First, the structure of frame components
The frame of frame type furniture is at least by fore-and-aft, crosswise each two square timber encircle and become. The longitudinal square is called the vertical side, and the transverse square at both ends of the frame is called the cap head. If there is a square in the middle of the frame, then the transverse square is called the transverse, and the longitudinal square is called the stop.
(1) Frame corner joint
From the shape of the frame corner joint can be divided into two kinds, namely direct joint and bevel joint.
(2) Frame T-shaped structure
T-shaped structure and two square into t-shaped connection, refers to the joint between the horizontal and vertical bars in the frame, and their respective joints with the main frame square. All kinds of frame bars, stalls, furniture legs are t-shaped structure.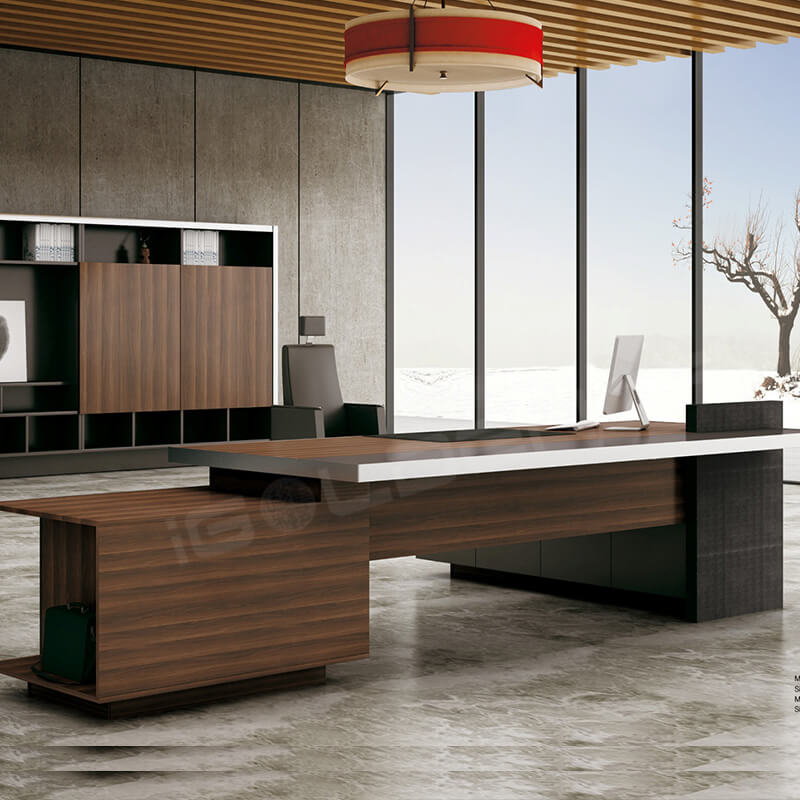 (3) Plate structure
Frame plate structure is loaded in the frame of a variety of plates, made of plate form, its assembly form has two ways of cutting method and groove tenon method. Cutting method is to open a shovel on the wooden frame, and then use screws or nails to fix the mounting plate, or add type surface wood strip to fix the mounting plate on the wooden frame. This structure is simple to assemble and easy to change the mounting plate. The grooved tenon method is to cut grooves in the wooden frame, and then put in the plate.
Two, solid wood board structure
(1) Combination mode of jigsaw
The board is made up of two or more boards joined together on the side. In traditional frame type furniture, face plate of tabletop board, cabinet face plate, stage face plate, chair face plate, panel is real wood join together and become. There are a variety of ways to put together, such as flat, inclined mouth, cut mouth, tooth form, tenon, tenon and so on.
(2) methods to reduce the warpage of the jigsaw
Solid wood board often because wood moisture absorption or drying and easy to cause deformation, especially two end face more easy warping and even cracking, and affect beautiful. In order to reduce and prevent the deformation of the splice, it is usually necessary to fix the wooden strips by means of tenon, board and end.
Solid wooden box frame structure
Box frame structure is by 3 or 4 boards with a certain joint form of the box or tank structure, box frame can be set in the middle of a number of boards, such as clapboard, shelf. The box frame often uses the integral rod, inserts the birch joint, some also uses the connector joint nail joint form. Box frame structure is mainly used for making instrument boxes, packing boxes and drawers in furniture.
Four, the foot frame structure
The foot frame is generally composed of feet and watchplate and retractor, which is the supporting part of the main body of the furniture. In a lot of ark kind furniture, crural frame is an independent component. Common ark kind crural frame has bright crural, wrap crural, plug crural and outfit crural 4 kinds of types.
Five, bending structure
In furniture structure, when the Angle that bending axis and wood fiber direction form exceeds 45″, can cause the serious fracture of bending diameter fiber, because this needs to join with short material section by section. Among them, finger shape card joint strength is high, and natural beauty; Miter strength is also better, easier to process, but the loss of wood is greater. These joint methods have their own characteristics in strength and beauty, and should be selected according to the specific situation.
Shandong iGolden Furniture Co., Ltd. was established in 2012 in Jinan City, Shandong Province which is one of the biggest professional manufacturers of furniture and board. Such as hospital furniture, bank furniture various customized office furniture,Aluminum honeycomb panel and compact laminate board. iGOLDENOF is a large-scale manufacturing enterprise integrating design, development, production and sales. In past ten years, IGOLDENOF has insisted on open-mindedness, solidarity, mutual assistance, hardworking, pragmatic and humble entrepreneurial spirit and the pursuit of excellence who has been highly recognized and appraised by customers from all over the world.