Medical furniture involves many numerical values such as function, appearance, mechanics and physical and chemical properties. Compared with other furniture, medical furniture has high requirements in safety, humanization, acid, alkali and wear resistance. Environmental protection is the primary standard of medical furniture procurement. Experts said that all the plates used in medical furniture must meet the requirements of green environmental protection, in use, can not release other harmful substances harmful to human body. Must first be a good medical furniture is environmental protection, the patients in the hospital for a long time, furniture must not impair the health of patients, medical furniture must meet the national environmental protection standard of environmental protection, we will strictly control the release of free formaldehyde, medical furniture is environmental protection material is the first step of environmental protection, especially with the man-made plank of the widely used, The effective control of free formaldehyde in wood-based panel can greatly reduce the content of harmful substances in furniture.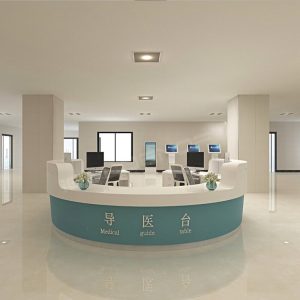 Medical furniture users are mainly divided into two parts, one is doctors and nurses and other staff, and the other is patients. Statistics show that county-level hospitals have an average of 5,000 outpatient visits per day, and provincial-level hospitals have an average of more than 10,000 outpatient visits per day. As people are large, furniture is more prone to wear and tear, so abrasion resistance and durability of medical furniture become important criteria for procurement.
In addition to meeting the needs of durability, medical furniture must also have the characteristics of laboratory furniture, such as children Shouting, candle-proof and moisture-proof. For example, medical storage cabinets and medical equipment cabinets must be pre-tidal and cross-infection prevention. Wear resistance is strong, the medical surface drug handle must be antirust disinfection. Medical artificial stone basin needs to prevent acid and alkali strong, with good heat, pollution, corrosion resistance and wear resistance. Hardware requirements, hardware accessories must be rust, corrosion, and must have 澝 corrosion resistance, acid and other properties. There are some special needs in the medicine cabinet, such as some special controlled drugs or drugs, some of them may be injections, need to maintain a certain temperature or humidity.
Medical furniture should first meet the needs of function and be designed according to function. For example, the dental chair needed by oral cavity hospital is not the same as the requirements of other chairs. The chair design should have certain lighting, and the head pillow should be adjusted from multiple angles.
Medical furniture must also meet the requirements of humanization. The first step of humanization is to carry out ergonomics. The design should be humanized and convenient for patients to use, such as changing edges and corners to angles, designing handrails for patients to stand up, etc., and at the same time, the tone should be more lively and safe. Hospital furniture must be designed to be stable, solid and unshaken. The humanization of medical furniture must meet the needs of doctors and patients. For example, the design of the side table of the nurse station should be designed according to the average height of Chinese women. The seat design of the visiting doctor must also study ergonomic design. The sitting height can be adjusted up and down, the sitting surface should be adjusted before and after, and the material of the seat back and sitting surface should have good air permeability. Hospital furniture must be firmly structured, ergonomic, simple and generous in shape, elegant and fresh in color. Ikang medical furniture has the highest requirements for the safety of furniture, and most of the acceptance of the project must get the environmental protection and safety test report given by the authoritative official institutions."