Stone honeycomb aluminum plate, generally using 3-5mm stone, 10-25mm aluminum honeycomb plate, after special adhesive bonding composite, not only save the stone and reduce the weight of the finished product, can better reflect the stone effect in some of the load-bearing buildings have higher requirements.
Stone honeycomb aluminum plate is a new building material, with better impact resistance than ordinary natural stone, only 8-11 kg per square meter, is 1/7 of the weight of ordinary natural stone, compressive strength is 3-5 times of it, completely overcome the natural stone heavy weight, fragile and other defects.
1、Light weight
The thinnest stone honeycomb aluminum plate can be only 5mm thick, light weight, saving costs for transportation, the building has load limits, it is the best choice.
2、Strength improvement
After the composite of stone and honeycomb aluminum plate, its strength of bending, bending and shearing is obviously improved, and the damage rate during transportation, installation and use is greatly reduced.
3、Improved anti-pollution ability
Ordinary marble original board (full body board) in the installation process or later in the use of the process, such as wet cement paste, it is likely to be half a year or a year later, marble surface a variety of different discoloration and stains, very difficult to remove. Stone honeycomb aluminum plate because of its bottom plate is more hard and compact, at the same time there is a thin layer of glue, to avoid this situation.
4、Easy to control color difference
Because stone honeycomb aluminum plate is used 1 square meters of raw stone cut into 3 or 4 pieces. The pattern and color of 3, 4 square meters is almost 100% the same, so it is easier to ensure the consistency of the color and pattern when the large area is used.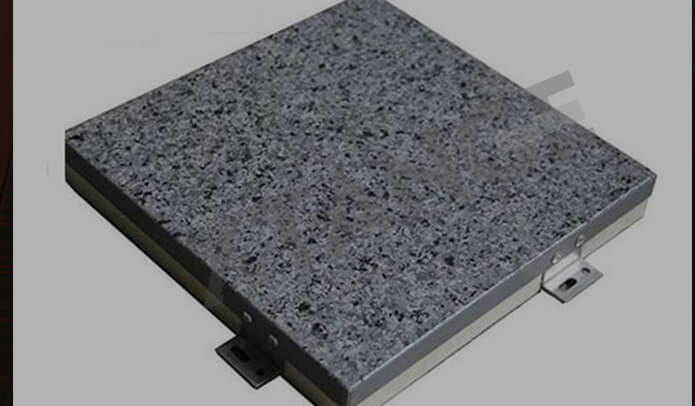 5、Easy installation
Because of the above characteristics, in the installation process, regardless of weight, easy to break (strength, etc.) or color splicing has greatly improved the installation efficiency and safety, but also reduce the installation cost.
6、Breaking the penalty area
The adornment place of marble, no matter inside exterior wall, ground, windowsill, porch, desktop is waited a moment, common stone material does not exist a problem, only the ceiling no matter be marble or granite, any adornment company dare not also take this risk impossibly. And the compound board after stone material and aluminum honeycomb agglutinate broke through the forbidden area that this stone material decorates. Because it's so light, it weighs only 1/5 to 1/10 the weight of the full-body panel. It's the one to decorate the ceiling with stone.
7、Sound insulation, moistureproof
Stone honeycomb aluminum plate, because of its equilateral six sides made of hollow aluminum bee core with sound insulation, moisture, heat insulation, cold performance.
8、Energy saving and consumption reduction
Stone aluminum honeycomb aluminum plate because of its sound insulation, moistureproof, heat preservation performance, therefore, in the indoor and outdoor installation can greatly reduce the consumption of electric energy and heat energy.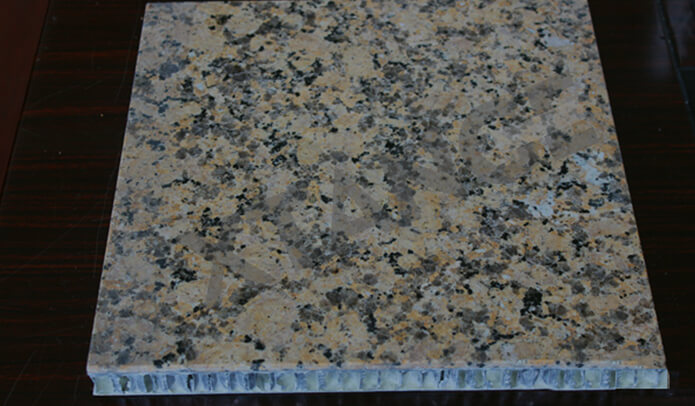 Shandong iGolden Furniture Co., Ltd. was established in 2012 in Jinan City, Shandong Province which is one of the biggest professional manufacturers of furniture and board. Such as hospital furniture, bank furniture various customized office furniture,Aluminum honeycomb panel and compact laminate board. iGOLDENOF is a large-scale manufacturing enterprise integrating design, development, production and sales. In past ten years, IGOLDENOF has insisted on open-mindedness, solidarity, mutual assistance, hardworking, pragmatic and humble entrepreneurial spirit and the pursuit of excellence who has been highly recognized and appraised by customers from all over the world.