Hospital furniture design plays an important role in the overall design of the hospital, so what requirements should it meet?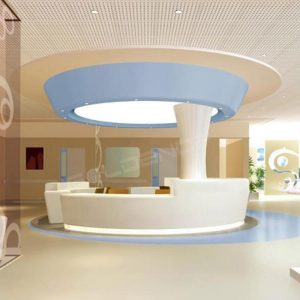 One. Comfort requirements
Hospitals are set up to treat patients, and the design of hospital offices should focus on maintaining a pleasant environment including sound, light, heat and fresh air. Especially for emotionally sensitive patients, it is important to take measures such as noise isolation, natural light, proper temperature and fresh air to stabilize the environmental conditions for patients to stabilize emotionally, which can effectively improve the recovery time of patients.
Two. Directional requirements
The first consideration of hospital office design is to make patients easily familiar with the environment, can easily find the way. To effectively address this problem, we recommend that Spaces with similar features be grouped together in order to determine the proper order when arranging Spaces, and that the process be checked to make it easy for patients, caregivers and staff to use, as simple as possible. At the same time, paint all passages and doors in different colors, use different materials for easy identification, and use different colors and shapes to identify various facilities. In this way, patients can quickly turn to medical personnel for help in emergency situations, and it is also convenient for medical personnel to rescue work.
Three. Easy to use requirements
Stairs, raised floors, narrow door frames and hard-to-reach cabinets should all be avoided. Most patients have temporary mobility problems. In order to enable them to participate in daily activities independently, it is necessary to provide ramped access to stairs and raised floors, and to place supports at appropriate locations.
4. Supporting requirements
Hospital office design should help the hospital to carry out its work smoothly. The size of each space, lighting, temperature, ventilation, sound, the type and location of hospital furniture, the color of decoration materials in the hospital office and the quality of the display case should be properly arranged to achieve the corresponding service effect of the medical display case. Hospital furniture also provides good support for hospital office design.
Five. Green building materials selection requirements
Hospital office design should pay more attention to green environmental protection, the application of materials without volatile inorganic compounds, decoration must be specified before the application of green building materials standard, it is recommended to adopt more severe standards, the lowest standard should not be lower than the health standard of green building materials. Green hospital office can prevent patients from secondary injury, but also can effectively improve the important role of patients.