Healthcare experiences are made up of more than moments of care—they also include the time spent in transition between those moments. And these transitional spaces where patients and their families wait are often uncomfortable and unappealing, increasing feelings of stress and negative mindsets.1
Transition spaces offer a significant opportunity for improving the healthcare experience. By providing more choices and supporting a range of postures and activities—conversations, information sharing, getting work done, resting and relaxing, or using personal devices to stay connected with the outside world—waiting spaces should be adaptable and productive environments that provide better healthcare experiences.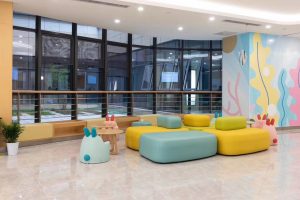 WHAT WE OBSERVED
Chairs crowded in rows with little privacy
Seating used to hold personal items, mark territory
Minimal support for personal devices
Patients and family preferring seating with sightlines to information sources
Uncomfortable, unappealing environments with few positive distractions
WHAT WE HEARD
" There was no privacy while we waited for my dad's surgery to be over. My mom was really anxious and needed to talk, but felt uncomfortable with everybody able to hear our conversation." – Family
" My time is valuable to me. I don't want to sit and flip through old magazines while I wait for my appointment. I'd rather be able to stay on top of my email, answer my phone with some privacy, and stay connected to my work, my family and my life." – Patient
" Waiting rooms aren't something we used to consider a valuable investment, but now we're seeing that they are a hidden asset and can be a beneficial feature in a person's experience at our facility." – Provider
solution
LEVERAGE TECHNOLOGY
Include well-placed wall monitors to display information about the organization, health-related information and/or waiting updates.
Provide media settings for self-directed or group learning.
Support use of personal devices with easy access to power throughout the space.
Anticipate new and emerging technologies with an adaptive infrastructure.
PROVIDE FOR PRODUCTIVE TRANSITIONS
Provide a range of settings appropriate for varying activities and durations
Balance organizational needs for seating density with people's desires for diverse settings and various levels of privacy while they wait.
Provide seating with clear sightlines to doorways, clinician entrances and information desks.
Use modular furniture to divide the floor plate into smaller settings that support a range of activities.
Select furniture that supports activities and postures appropriate for the duration of the wait: work settings, lounge options, caf. tables, etc., for longer waits.
Optimize the real estate with flexible spaces that can accommodate after-hours learning sessions, health-related support groups, etc.
CREATE INVITING SPACES THAT REDUCE STRESS11
Provide comfortable settings and hosting amenities, including a space for items such as bags, personal devices or beverages.
Accommodate people's preferences for varying levels of noise and other stimuli, creating quiet zones where people can retreat from sources of noise.
Create conversation areas where families can be together without the distraction of strangers.
Incorporate soothing materials, textures, colors, lighting and views.