Hospital furniture includes office furniture, public furniture, laboratory furniture and medical furniture. The objects of the use of hospital furniture are mainly medical staff, patients and accompanying personnel, most of which are women and children, middle-aged and elderly people, who are in special need of care and protection. Hospital furniture configuration will ensure the health and safety of users in the first place. Comply with safety, environmental protection, high quality standards.
  Hospital project configuration follows the following six criteria.
  Highest safety standards guidelines
  Hospitals are crowded public places, furniture configuration in terms of quality, safety and reliability, should meet the current national or industry quality standards of the highest level. Furniture configuration design must comply with the current mandatory quality and safety standards and standards of the furniture industry, as well as the current national standards and standards of medical treatment and environmental protection. All medical office furniture must be made in strict accordance with national standards, such as products should not be dangerous sharp edges and dangerous sharp tips, edges and edges should be rounded or chamfered; Products should not be dangerous protrusions; All high tables and cabinet products with a height greater than 600mm shall be provided with fixed connectors to the building.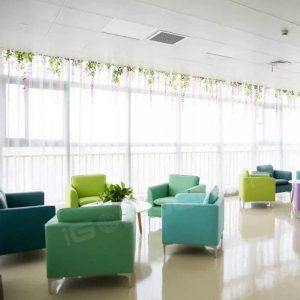 Principles of high environmental standards
  Most of the hospital furniture installation environment ventilation is not ideal, in order to ensure the safety and health of patients, all the main materials of furniture environmental indicators need to reach the level 1 environmental standards. Maximum guarantee products with consumption in the process of using nontoxic and harmless (no corrosive, radioactive, biological hazards, no harmful volatile), all the fixed parts (such as door plank, chair foot, wheel, etc.) are processed by the noise control and protection of ground, measures including but not limited to using 2 force hinge, sound soft mat, etc.
  Principles of high quality standards
  The environmental protection quality of all raw and auxiliary materials and finished products shall conform to the current effective national quality standards. For example, all table boards are ≥18mm thick; Aluminum alloy raw material quality grade, model no less than 6063 series, wall thickness of 1.0mm or more, surface protective layer thickness of 8um or more; The material grade of all products shall not be lower than 304#; Hardware accessories guide rail in line with QB/T 2454-2013; Equipment cabinet, medicine cabinet, laboratory furniture and other special professional furniture should meet the requirements of anti-corrosion, anti-acid and alkali, anti-biological pollution and other special professional standards.
  Highly human principles
  The design of hospital furniture should consider the concept of humanized care and improve the comfort and convenience of using experience. Seats in all waiting areas are made of leather cushions and backrest cushions to improve comfort; Infusion room chair selection of three soft package sofa, can sit or lie down, improve comfort experience. The desk is designed as t-shaped. For right-handed patients, printers, paper and mice are placed on the right desk against the wall to improve the convenience of use. The prominent part in the middle is designed as an arc to facilitate doctor-patient interaction and reduce the moving distance and collision. Administrative office booth, the design of a hidden folding bed, easy to lunch. And many other details, as humanized as possible.
  The principle of environmental friendliness
  The overall style of furniture should be designed in accordance with the architectural style of the hospital, and the indoor and outdoor decoration style should be consistent. The layout design of furniture should be consistent with the architectural space and the medical process, so as to reduce the waste of plane space as much as possible, and avoid forming narrow corners and side seams that hinder the passage. For example, the wall cabinet should fit perfectly with the wall, and top to the ceiling, and become one with the room; The escort chair is a foldable sofa chair, which is folded into a chair during the day to reduce the occupancy of space, and opened to serve as an escort bed at night. Color selection also needs to be matched with the surrounding environment, lighting, to create a friendly atmosphere, such as obstetrics furniture to choose warm colors, warm and harmonious; The infusion room for children chooses green and cool colors to create a quiet and comfortable environment.
  Accord with the standard principle of hospital sense control
  The furniture design scheme shall be reviewed by the sense of courtyard control management department and conform to the standard principle of sense of courtyard control. Hospital furniture should be easy to clean, conducive to disinfection, such as wiping west leather, cloth cover can be removed and washed. Prescription cabinets and treatment cabinets need to avoid gaps, and the inner right Angle joints should be elliptic packing processing, easy to clean. There are bins under the counters of disposal rooms and treatment rooms.