In the hospital system, is bound to configure some commonly used medical furniture, the nurse station and DaoYi is greeted first entered the outpatient service hall, also will give patients a more profound impression, represents the image of the hospital, so this kind of furniture design is very important, especially when planning also need to satisfy some conditions. Let's take a look!
Design principle of nurse station of guide station
1, in accordance with the principle of fire safety requirements
2, in line with the principle of hospital sense control standard
3, the principle of environmental affinity
4. Highly humanized principles
5, the principle of high quality standards
6, the principle of high environmental protection standards
7, the principle of the highest safety standards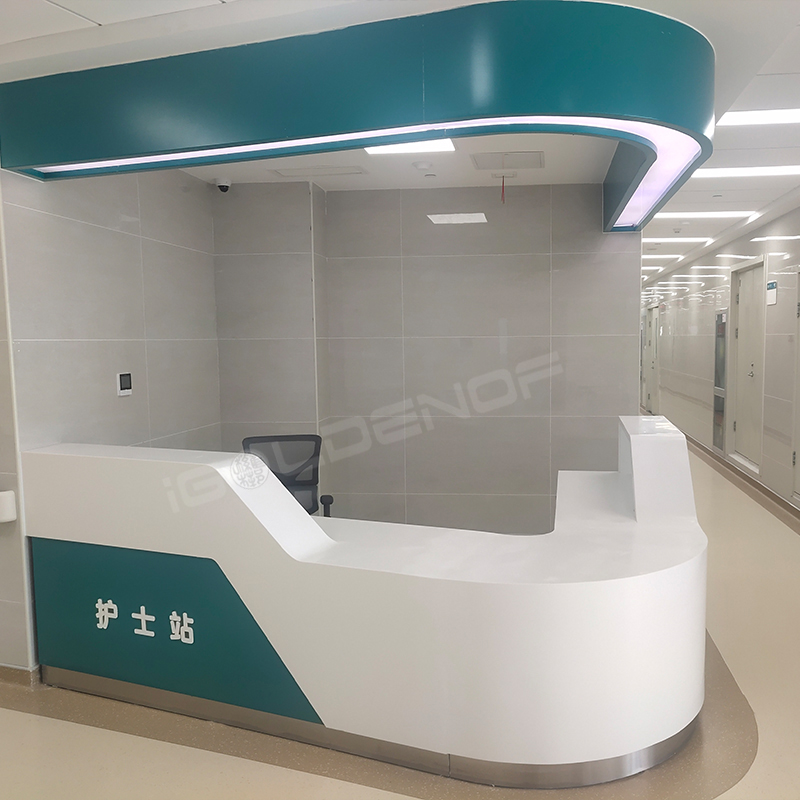 Planning requirements for nurse stations at the Entrance desk
1. Doctor-patient channels
Patient reception, receiving inquiries, medical guidance, process instructions, matters needing attention.
2. Medical channels for patients
Deal with admission procedures, demand payment of hospitalization fees, bear inquiries and checks.
3. Working channels for nurses
Medical records classification, advice processing, medical dispensing, material storage, information operation station.
4. Health promotion channels
Health knowledge, treatment practices, drug manuals, inspection manuals, medical information.
5. Image presentation channels
The whole hospital environment is harmonious and varied.
Shandong iGolden Furniture Co., Ltd. was established in 2012 in Jinan City, Shandong Province which is one of the biggest professional manufacturers of furniture and board. Such as hospital furniture, bank furniture various customized office furniture,Aluminum honeycomb panel and compact laminate board. iGOLDENOF is a large-scale manufacturing enterprise integrating design, development, production and sales. In past ten years, IGOLDENOF has insisted on open-mindedness, solidarity, mutual assistance, hardworking, pragmatic and humble entrepreneurial spirit and the pursuit of excellence who has been highly recognized and appraised by customers from all over the world.