Information overload leads to confusion, fatigue and disorganization. The nurse station environment needs to support many different types of information exchange, but must do so strategically: Maintaining patient privacy, planning for a reduction of noise and clutter, appropriate lighting levels and a variation of physical and acoustic characteristics all contribute to reduced info-overload.
This provides a rather severe looking separation between the staff and patients and many feel is actually counter-productive to the attempts to create a therapeutic environment.
Nurses Station Decor|Nurse Office Accessories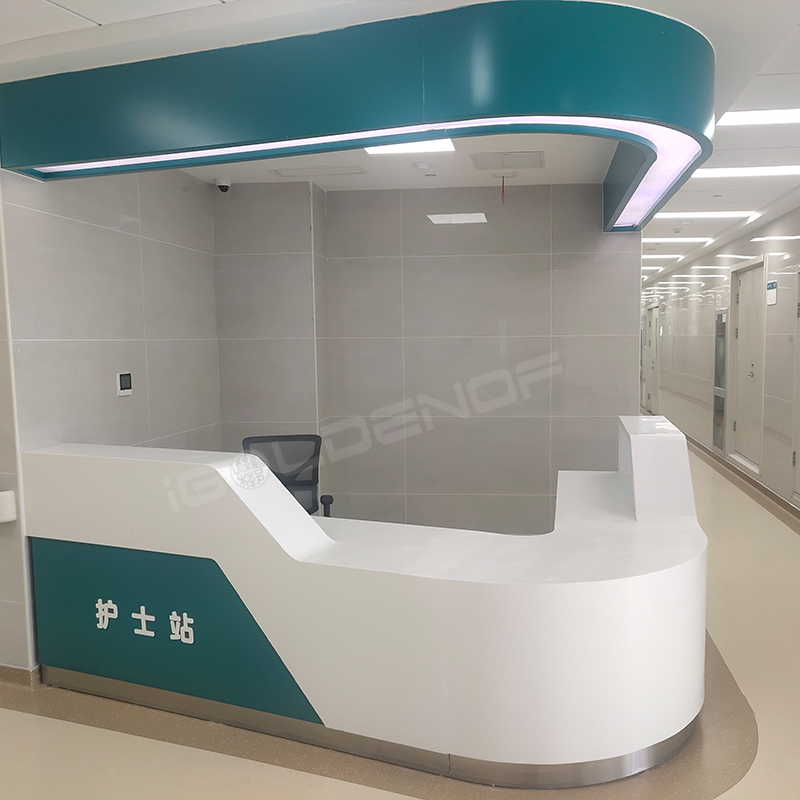 Care teams use a wide range of technology in their work, and healthcare organizations must plan ahead for changing utility needs. That's why we designed Commend with an extra-large frame cavity to accommodate high-capacity power and data entry. Multi-piece interior cladding gives installers and maintenance workers easy access to the frame cavity for cable routing. And seamless under-surface cable management keeps workspaces organized and clutter-free.
The nurse's station is designed with a desk that features a variation of heights between a standing counter height and a lower desk for the differently abled, a step to make both the space and the service more inclusive. The all white cabinetry again makes the space look clean and uncluttered and larger than it is. Barely visible is the herringbone stone mosaic for the backsplash is an understated way to build dimension in this back wall. Notice the change of flooring finishes and a seemingly "white carpet" to define paths into the rest of the interiors. It is a touch that can make the navigation of your space more instinctive aside from the necessary wayfinding signage.
You should leave enough room behind the nursing station for your staff to move around and for the storage of essentials like emergency medication. Enough space in front of the station ensures adequate space when people are being served. The nursing station should also be designed in a manner that leaves the lines of sight intact. This means nurses should see everything happening around them without having to strain their necks when seated.
Shandong iGolden Furniture Co., Ltd. was established in 2012 in Jinan City, Shandong Province which is one of the biggest professional manufacturers of furniture and board. Such as hospital furniture, bank furniture various customized office furniture,Aluminum honeycomb panel and compact laminate board. iGOLDENOF is a large-scale manufacturing enterprise integrating design, development, production and sales. In past ten years, IGOLDENOF has insisted on open-mindedness, solidarity, mutual assistance, hardworking, pragmatic and humble entrepreneurial spirit and the pursuit of excellence who has been highly recognized and appraised by customers from all over the world.