Nurses station bar color design
The nurse's station is the big front desk that we can see directly when we enter the hospital gate. Represents the overall image and grade of the hospital or the hospital, to achieve the concept of close and elegant. Close to elegant is the design concept of the nurse station, and strive to complement the natural environment, so that the users and people around the room need to feel safe and warm. Design conception wants novel and easy decent, spatial layout is reasonable and practical strong. Shape design and color should be designed according to the natural environment and buildings.
Color is of great significance to patients, escorts and medical staff, and is an important aspect of modern women's and children's hospital design. Therefore, on the basis of humanization, different colors should be considered in the color design of the nurse station and the guidance table of the women's and Children's Hospital, and different physiological and psychological benefits should be brought to people. The women's and children's hospital decoration design with what color collocation more humanized, rationalization? In fact, different color combinations can be used to distinguish each functional area, which can also give people a different medical experience.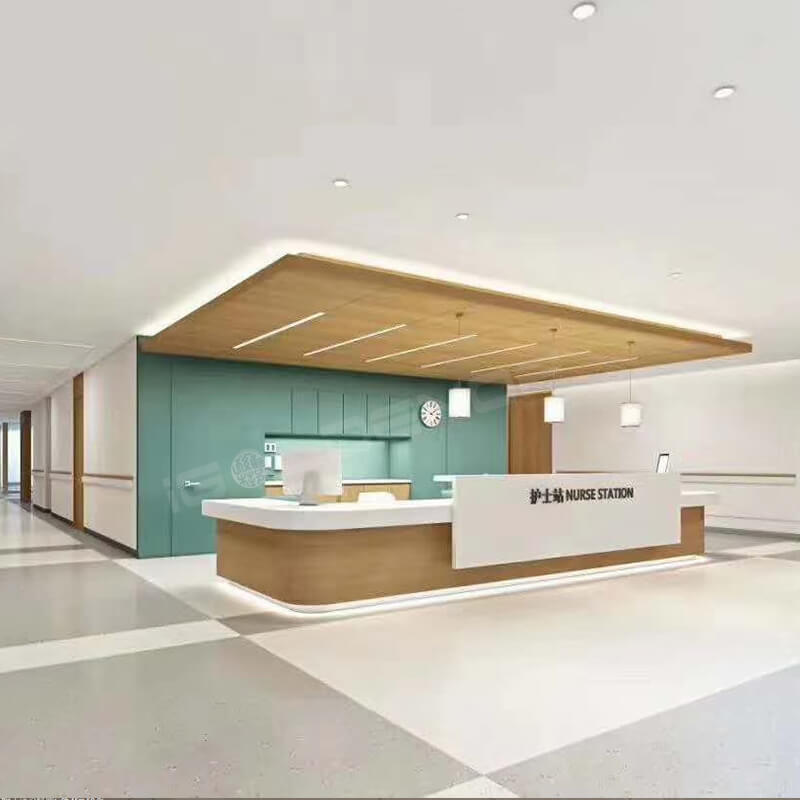 The color design of hospital nurse station should take into account the characteristics of modern women: gentle and reserved, independent and self-reliant, love romance, and need more care. Therefore, the furniture of maternity and child hospital should be mainly soft, warm and kind in color collocation, such as lavender, light pink, light blue and other series, to create a fashionable, warm and soft medical environment.
Shandong iGolden Furniture Co., Ltd. was established in 2012 in Jinan City, Shandong Province which is one of the biggest professional manufacturers of furniture and board. Such as hospital furniture, bank furniture various customized office furniture,Aluminum honeycomb panel and compact laminate board. iGOLDENOF is a large-scale manufacturing enterprise integrating design, development, production and sales. In past ten years, IGOLDENOF has insisted on open-mindedness, solidarity, mutual assistance, hardworking, pragmatic and humble entrepreneurial spirit and the pursuit of excellence who has been highly recognized and appraised by customers from all over the world.