The healthcare construction boom requires evidence for effective design of nurse stations, including evidence supporting workflow processes, computerization, integration of technology, communication of caregivers, and optimal patient outcomes.
Information overload leads to confusion, fatigue and disorganization. The nurse station environment needs to support many different types of information exchange, but must do so strategically: Maintaining patient privacy, planning for a reduction of noise and clutter, appropriate lighting levels and a variation of physical and acoustic characteristics all contribute to reduced info-overload.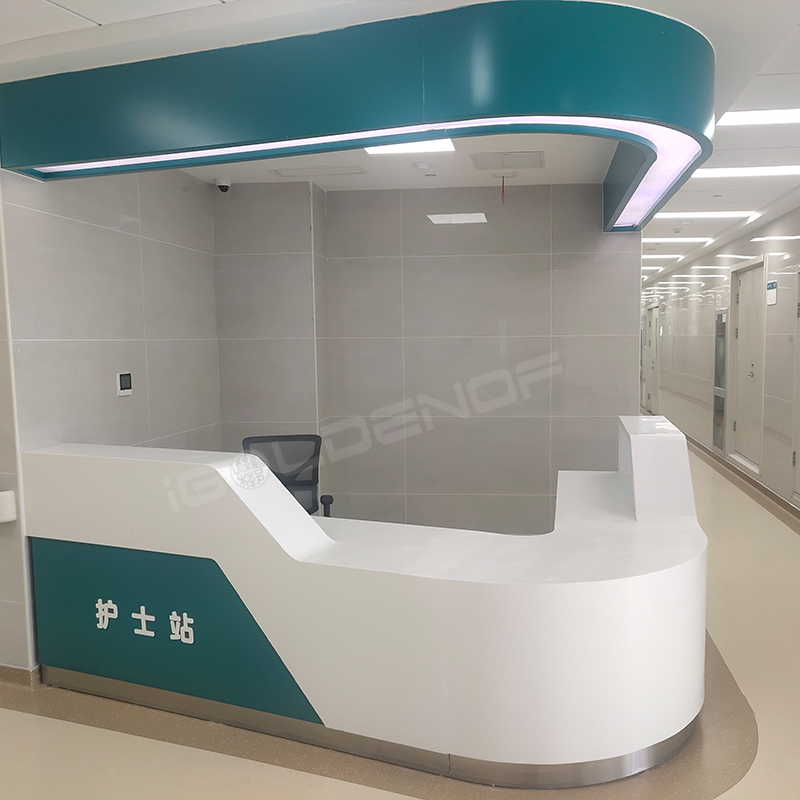 Better nurse station planning and design can reduce staff stress and fatigue, increase effectiveness in delivering care, improve patient safety, reduce patient and family stress and ultimately improve outcomes and overall healthcare delivery quality.
When choosing a nurses' station design for your medical office, you should stay goal-oriented. A closed in nurse desk may work for an imaging center's administrative office.
First and foremost, nurse stations need to be considered in the context of providing patient care and as a functional work space. Clean, beautiful aesthetics contribute to the healing environment, but this space, maybe more than any other in the hospital environment, needs to be highly functional.
Shandong iGolden Furniture Co., Ltd. was established in 2012 in Jinan City, Shandong Province which is one of the biggest professional manufacturers of furniture and board. Such as hospital furniture, bank furniture various customized office furniture,Aluminum honeycomb panel and compact laminate board. iGOLDENOF is a large-scale manufacturing enterprise integrating design, development, production and sales. In past ten years, IGOLDENOF has insisted on open-mindedness, solidarity, mutual assistance, hardworking, pragmatic and humble entrepreneurial spirit and the pursuit of excellence who has been highly recognized and appraised by customers from all over the world.