The design concept of hospital outpatient guidance table should be based on the premise of basic use of medical staff, and also need to pay attention to the people-oriented design concept of furniture. People-oriented treatment cabinet design concept step, furniture modelling design is simple atmosphere, easy to use medical staff. In addition, the design concept of hospital furniture also needs to meet the requirements of medical staff, for example, according to the normal height of Chinese people to complete the design concept. Let's take a look!
Material of working table of nurse station of hospital guidance table
Artificial stone for guide table work surface: Man-made stone is a stone powder add artificial fiber made by high pressure, its main characteristic is colorful, table faces, has the strong dirt, acid and alkali resistance, corrosion resistance, wear resistance and other advantages, artificial stone has the elegance of a natural marble and granite hard, have the same meticulous and warm wood, have porcelain burnish feeling, strong toughness and plasticity, can complete close flat-fell seam, Even seamless splicing, but also to create all modelling design.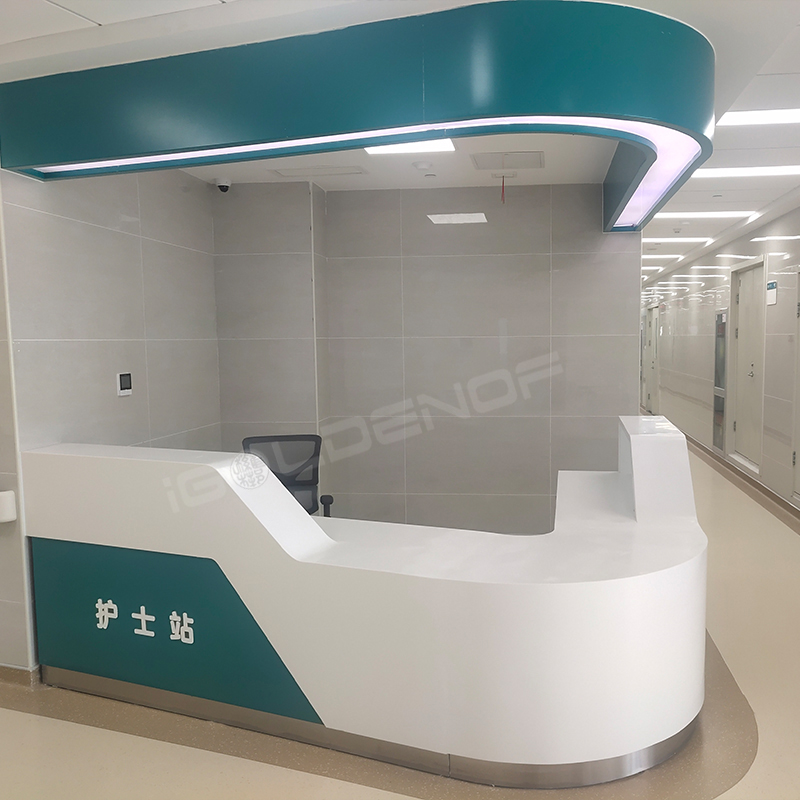 Marble and granite have natural texture, the exterior design is relatively beautiful and generous, but natural stone is generally a gap, very easy to deposit besmirch, and the brittleness of natural marble is relatively large, can not make the width of the work table beyond one meter. The production of granite and natural stone will have seams, which are relatively easy to hide dirt and dirty, affecting the overall environmental health of the hospital.
Shandong iGolden Furniture Co., Ltd. was established in 2012 in Jinan City, Shandong Province which is one of the biggest professional manufacturers of furniture and board. Such as hospital furniture, bank furniture various customized office furniture,Aluminum honeycomb panel and compact laminate board. iGOLDENOF is a large-scale manufacturing enterprise integrating design, development, production and sales. In past ten years, IGOLDENOF has insisted on open-mindedness, solidarity, mutual assistance, hardworking, pragmatic and humble entrepreneurial spirit and the pursuit of excellence who has been highly recognized and appraised by customers from all over the world.