Science Room & Labs
We offer countless types and styles of furniture that are suitable for corporate, educational, and public areas to provide an aesthetically pleasing and comfortable environment.
ergonomically designed furniture for the modern office.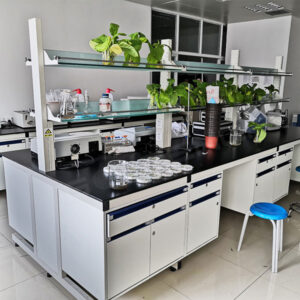 Laboratories are designed to maintain the health and well-being of occupants. Potentially hazardous substances used in different laboratories include chemicals, radioactive materials and infectious biological agents. Laboratory safety has to be balanced with worker comfort. Comfort primarily is concerned with maintaining appropriate temperatures and air velocities. Laboratories must be designed so that energy efficiency gains do not reduce safety and comfort.
Science education integrates hands-on learning by applying theories and concepts in lab experiments. These lab experiments can occur in chemistry, physics, biology and earth science classes and require special furnishings. Workstations should be exceptionally sturdy, able to withstand heat, chemicals and other materials, plus provide adequate space for students to safely work. Other equipment is needed for protection like safety goggles, eyewash stations, fume hoods and chemical storage. There is also specific lab equipment needed to perform experiments like microscopes, triple beam balances, pH meters and spring scales.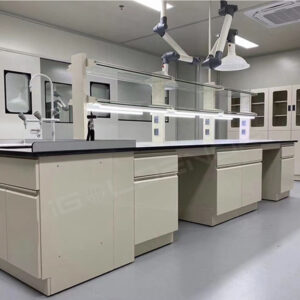 The knowledge a student gains in a science lab can then be shared with the presentation of a science project or in school science fairs. Visuals on a display board highlight what theory was tested and the results achieved. Science teaches students both problem solving and critical thinking skills, skills that can lead them into high tech careers later in life.
The type of experiments being conducted will dictate the type of work surface and table style needed. For example, experiments that involve chemicals or heat will need science tables with an epoxy resin top. If water will always be used, then workstations with built in sinks are convenient. How experiments are performed will indicate what type of seating is best. Lab stools are a popular choice and can be mobile or stationary. Many can adjust in height so students can easily change sitting positions while working. The various equipment needed for experiments requires adequate storage space, too. Tote trays are frequently used to hold things like test tubes, Bunsen burners, droppers, tongs and flasks. Depending on the room set up and teacher preference, tote trays can be housed in carts or cabinets.