Key points of bar design of nurse station in future hospital
1.high and low platform design
The design of the high and low table of the nurse station mainly meets the functional needs of doctors and patients. The design of the high table is not only convenient for patients and their families to stand for consultation and writing, but also can block the nurses' working computers, documents and other items. The lower table is designed to meet the needs of patients sitting or wheelchair patients for consultation and conversation. General high-level table height is 1.1m, low-level table height is 0.75-0.8m.
2. Barrier-free design
The obstacle-free design of the nurse station is mainly for the humanization of patients. Combined with ergonomics, it can not only facilitate the normal use of wheelchair patients, but also allow patients to sit in a comfortable knee space.
3. Intelligent design
Intelligent design of the nurse station, mainly the perfect combination of intelligent devices and the design of the nurse station, effectively improve the work efficiency of nurses, such as lifting (clamshell) computer display device, conducive to computer storage, patient information protection; LCD intelligent display embedded design, can realize real-time information publicity, inquiry and guidance; Wireless charging device for quick charging and clean table; Nursing call system embedded, effectively improve nursing work efficiency.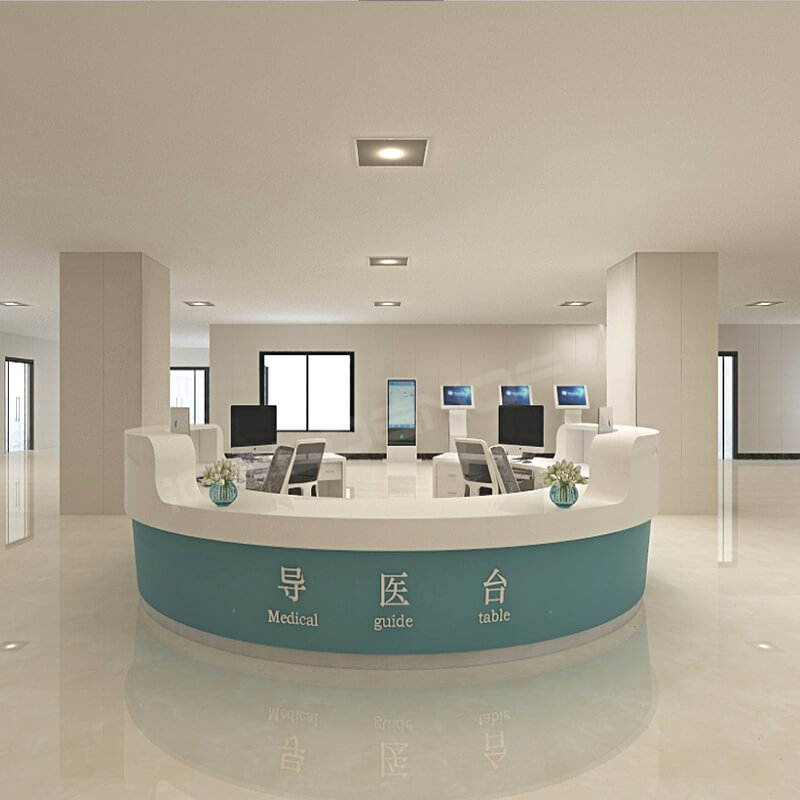 4. Modular design
Modular design of the nurse station makes the whole product modular, which is more convenient for assembly, handling and after-sales. Orderly hidden wiring, hanging access door, easy to repair faults; Movable file cabinet, adjustable at will, make the nurse station more comfortable and smart.
5. Innovative design
The innovative design of the nurse station is mainly reflected in the innovation of the appearance design. Our common appearance shapes are U, L, O and one font, etc. These shapes are simple and suitable for common departments. But there was a special group in the hospital, the children, for pediatric nurse station can have a more innovative design, such as the castle, animals, sailing, combined with the modelling of children, to design different appearance, let little patients in the hospital environment there is a desire to explore, each entry will be a happy trip, happy and enjoy the journey…
Shandong iGolden Furniture Co., Ltd. was established in 2012 in Jinan City, Shandong Province which is one of the biggest professional manufacturers of furniture and board. Such as hospital furniture, bank furniture various customized office furniture,Aluminum honeycomb panel and compact laminate board. iGOLDENOF is a large-scale manufacturing enterprise integrating design, development, production and sales. In past ten years, IGOLDENOF has insisted on open-mindedness, solidarity, mutual assistance, hardworking, pragmatic and humble entrepreneurial spirit and the pursuit of excellence who has been highly recognized and appraised by customers from all over the world.