Type of surface treatment for metal wallboard
The surface of metal wallboard is mainly divided into three types: pre-coating, post-baking paint and wood grain film.
A pre-coated metal wall panel is to buy coated steel plate, add forming and backing material composite, because there is no paint at the cut, easy to rust, and the thickness of the coating bottom, steel plate zinc layer is thin, so its price is relatively low, poor quality, generally only with the equipment room, can not be used in public places.
B. After coating metal wallboard is formed by galvanized steel plate, and then enter the process of pretreatment + coating, coating and backing material composite after completion, the price of this type of product is a little different according to the quality of galvanized steel plate, coating quality is good or bad, after coating metal wallboard quality is much better than pre-coated steel plate, Widely used in bank hall, hospital hall, corridor public part, communication hall and other public places.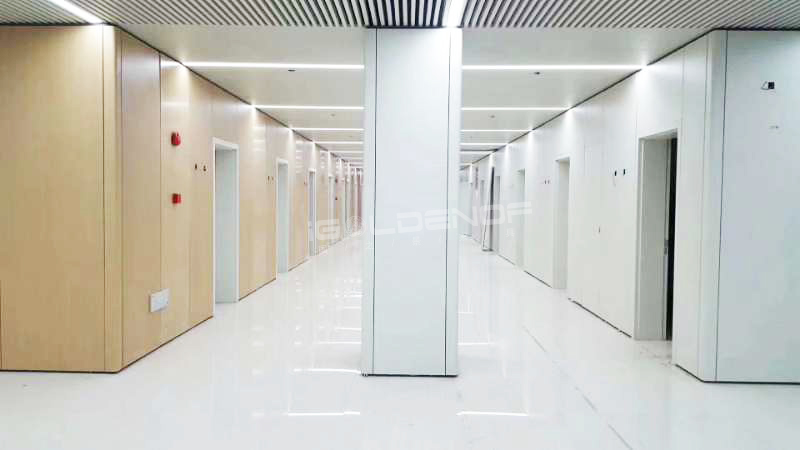 C. Wood grain coated metal wallboard surface coating is divided into domestic film and imported film, the price difference of the separate film is about 20 per square meter, the quality of the film is the main factor of the surface quality of the steel plate.
Shandong iGolden Furniture Co., Ltd. was established in 2012 in Jinan City, Shandong Province which is one of the biggest professional manufacturers of furniture and board. Such as hospital furniture, bank furniture various customized office furniture,Aluminum honeycomb panel and compact laminate board. iGOLDENOF is a large-scale manufacturing enterprise integrating design, development, production and sales. In past ten years, IGOLDENOF has insisted on open-mindedness, solidarity, mutual assistance, hardworking, pragmatic and humble entrepreneurial spirit and the pursuit of excellence who has been highly recognized and appraised by customers from all over the world.