How to design the color of hospital steel wall panel?
Reasonable cold and warm color collocation can effectively resolve patients' anxiety and resistance to treatment in the process of waiting and diagnosis and treatment. Warm colors are more representative of the color spectrum pleasing color, is considered to be a symbol of wisdom and light, can stimulate people's energy; There is representative more in cool color attune for blue, it often gives a person with rigorous, relaxed visual perception, can dredge inner pressure and annoyed mood.
Narrow space such as corridor: in such a narrow and flowing place as corridor, small decorative paintings with fresh and elegant style can be appropriately used, which will not attract a large number of people to stop and watch, but also can activate the environment atmosphere, giving people a relaxed and elegant psychological feeling. In natural daylighting condition is opposite additionally poor narrow space, appropriate use lively color, can increase dimensional distance feeling, reduce the discomfort that space constraint brings to the person.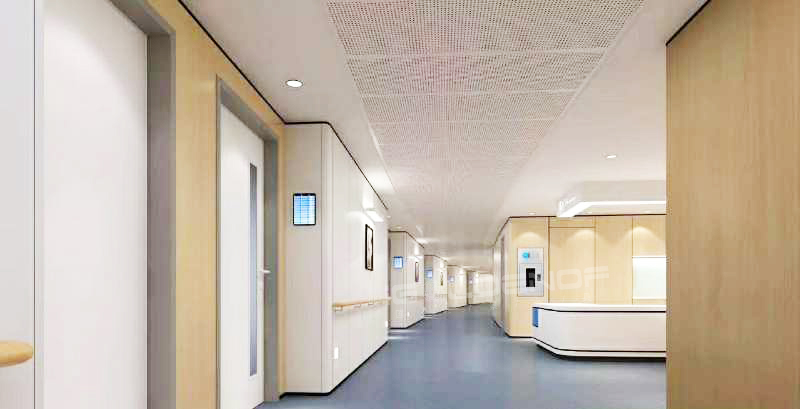 Ward: Ward is the place where patients and their families live for a long time. Its environment and decoration will always have a psychological effect on patients, their families and medical staff. Comfortable warm colors such as color, beige and other metope colors, can appropriately relieve the patient's sense of anxiety, make its mood gentle, conducive to treatment, also have auxiliary effect to rehabilitation.
Shandong iGolden Furniture Co., Ltd. was established in 2012 in Jinan City, Shandong Province which is one of the biggest professional manufacturers of furniture and board. Such as hospital furniture, bank furniture various customized office furniture,Aluminum honeycomb panel and compact laminate board. iGOLDENOF is a large-scale manufacturing enterprise integrating design, development, production and sales. In past ten years, IGOLDENOF has insisted on open-mindedness, solidarity, mutual assistance, hardworking, pragmatic and humble entrepreneurial spirit and the pursuit of excellence who has been highly recognized and appraised by customers from all over the world.