1, the thickness of the whole plate
Usually, the larger the thickness of the whole aluminum honeycomb plate, the better the quality. The thickness of aluminum honeycomb plate on the market is generally 7~9mm.
Generally, the thicker the honeycomb board, the stronger the ability to resist deformation, firmness is better. Especially when the plate is used for the whole wall, background wall decoration, in order to avoid the daily bump, you need to pay extra attention to the "collision".
Under normal circumstances, the thickness of 7mm plate can meet the needs of ordinary home decoration ceiling; But when metope adornment, thick person is beautiful. The thicker the thickness, the higher the cost. But to the foundation that values quality more hard outfit, suggest everybody chooses the material that has quality assurance more, lest late period big change. After all, hard dressing is a matter of life and death.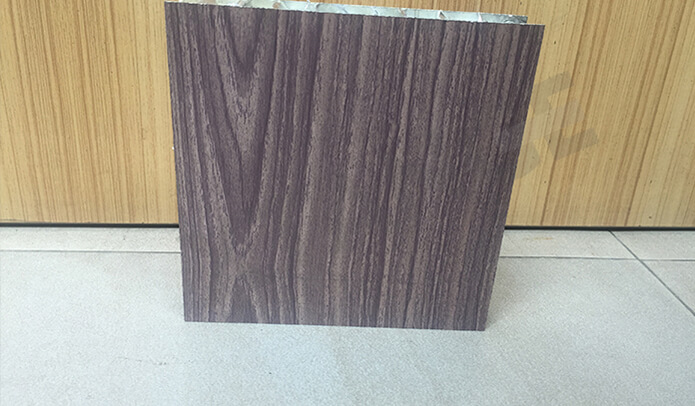 2. Honeycomb density
The higher the density of aluminum honeycomb panels, the more resilient they are to external forces. When the plate surface is impacted by external force, the impact force can be transformed into the plastic deformation capacity of the honeycomb core, which can effectively absorb the impact energy, play the role of shock absorption and anti-collision, so as to protect the wall from damage.
3. Material and thickness of bottom plate and panel
When it comes to the collision resistance of aluminum honeycomb panels, we have to mention the upper and lower layers, that is, the double substrate.
Scientific proportion into high stability of physical elements such as manganese, forming super hardness and toughness, not only high flatness, but also durable. Except, thickness of base material of bottom face plate is more prep above market common use makings.
Shandong iGolden Furniture Co., Ltd. was established in 2012 in Jinan City, Shandong Province which is one of the biggest professional manufacturers of furniture and board. Such as hospital furniture, bank furniture various customized office furniture,Aluminum honeycomb panel and compact laminate board. iGOLDENOF is a large-scale manufacturing enterprise integrating design, development, production and sales. In past ten years, IGOLDENOF has insisted on open-mindedness, solidarity, mutual assistance, hardworking, pragmatic and humble entrepreneurial spirit and the pursuit of excellence who has been highly recognized and appraised by customers from all over the world.