How to choose suitable furniture facilities for smart bank?
Smart bank is another case of perfect combination of traditional banking service mode and emerging technology after electronic banking. It is a new achievement in the evolution of modern banking service and an inevitable choice for the development of banks in the Internet era. Smart bank furniture will become the mainstream form of banks' branches.
Compared with the old bank furniture, modern smart bank furniture has outstanding characteristics in performance, function and process. Old-fashioned bank furniture, for example, is more artisan (intricate patterns, etc.); However, modern bank furniture pays more attention to its structural design, whether it is simple and efficient, and brings more comfortable and convenient experience for bank service and people's life.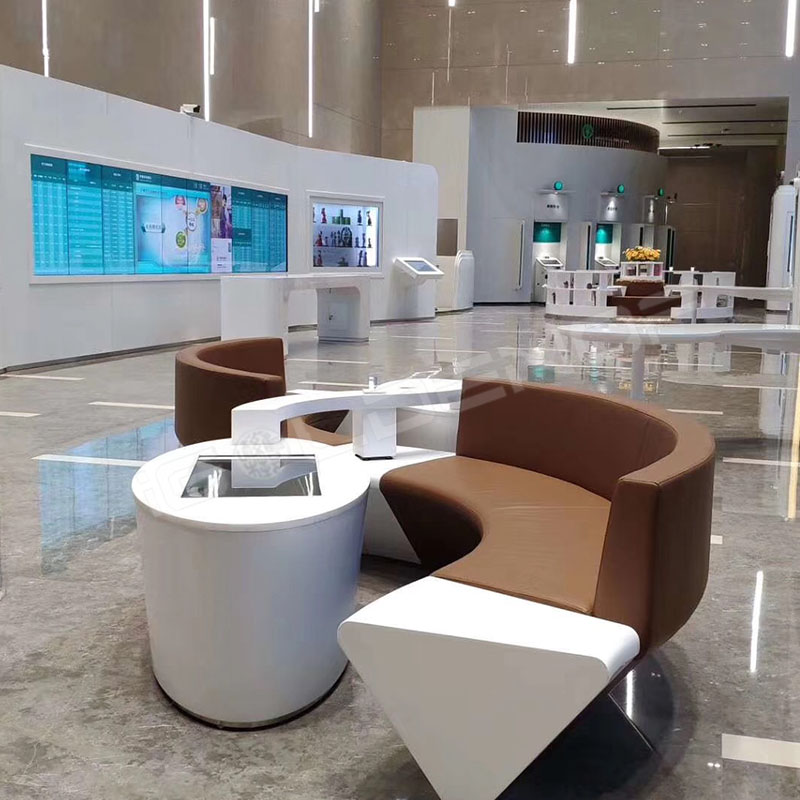 In the 21st century, people have higher requirements for material life, and increasingly pursue quality and green life. For the bank furniture, it should also meet the requirements of comfort and health. Through reasonable design, materials, in order to meet the use of function, but also must have the characteristics of green environmental protection, to meet the modern lifestyle. In addition, the young people have gradually become the main service body of the bank work, and the bank places are constantly drawing closer to customers' preferences when playing their roles. The style of the bank environment has changed from solemn and old-fashioned to free and personalized, which also drives the demand for customized bank furniture.
So, how to choose suitable furniture facilities for smart bank? Based on the exploration of the future trend of smart bank, we focus on customer experience and are committed to improving users' visual experience and user experience. From multiple perspectives, we have launched smart bank furniture solutions.
With the development and progress of science and technology, we believe that smart bank furniture will completely replace traditional bank furniture in the future. It will provide a plan more suitable for future banks according to the area of different banks, the division of different functional areas, and the style requirements of different bank locations.
Shandong iGolden Furniture Co., Ltd. was established in 2012 in Jinan City, Shandong Province which is one of the biggest professional manufacturers of furniture and board. Such as hospital furniture, bank furniture various customized office furniture,Aluminum honeycomb panel and compact laminate board. iGOLDENOF is a large-scale manufacturing enterprise integrating design, development, production and sales. In past ten years, IGOLDENOF has insisted on open-mindedness, solidarity, mutual assistance, hardworking, pragmatic and humble entrepreneurial spirit and the pursuit of excellence who has been highly recognized and appraised by customers from all over the world.