DEBO resistant board (also known as Combet board) evolved from the well-known high-pressure decorative refractory board (referred to as "fireproof board"). Fire prevention board is generally single-sided, thickness in the following 2MM decorative thin panel; DEBO plates are thick, double-sided panels that are more than 2MM thick and can be used for decoration and construction. DEBO anti – doubler plate has excellent physical, chemical and safety properties. Compared with traditional particleboard (low density board) and MDF (medium density board), it is the high density board that deserves its name. It does not need to do PVD edge processing, do not need to do surface fireproof board paste, which not only saves the processor a processing procedure, and its surface and edge integrated, slim and texture. As an integrated material, it can be directly used standard carbon steel alloy tool for drilling, guide, screw, etc., can also be cut into any shape required by CNC equipment according to the actual demand.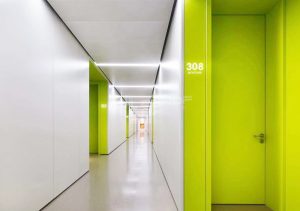 Anti-beite plate has a very wide range of application, with good stability, durability, water resistance, moisture resistance, heat resistance, drug resistance, impact resistance, wear resistance and easy cleaning and maintenance.
  Anti-double applicable indoor type: because of the anti-double special plate has wear-resisting, fire prevention, anti-bacteria and anti-static and other characteristics, widely used in banks and airports and other systems of counters and internal walls, public places to wash indoor and sanitary compartments, station platform windproof wall and bench, school tables and chairs, dining tables and cupboard hangers.
  Times for outdoor type: resistance produced by a specially technology of outdoor decoration plate structure, colour diversity, high strength, impact resistance, uv resistance, weather resistance, antistatic, excellent characteristics of fouling resistance and easy processing, make its can be widely used in building facades, signs such as outdoor furniture, outdoor furniture and outdoor space; For the pursuit of personalized architecture, for designers to provide a broader space for exploration.