Today the scene as an introduction to the hospital medical furniture manufacturer Hospital reception desk background design, hospital leading examining whether practical, but also meet the requirements of humanization, first step is to have the ergonomic human requirements, to the humanized design is easy to use patients, such as the edges and corners rounded corners instead, to design the armrest, easy to stand up and, at the same time tonal go up to be more lively, more safety.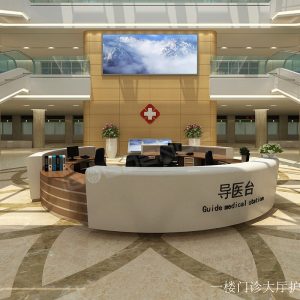 The design style of hospital guide table:
Environmental protection is the primary standard for the design and customization of hospital guidance table. The boards used by hospital furniture have reached the designated index of green environmental protection. During the use of furniture, substances harmful to human body will not be released.
To meet the functional needs of furniture, the staff who use furniture are generally divided into three parts: medical staff, patients and their families. The number of emergencies in a large hospital is very high. Therefore, the wear resistance and durability of customized hospital guidance tables have become the most important criteria for procurement.
To reflect the requirements of humanization, the customization of hospital furniture must meet the requirements of humanization, such as changing the edges and corners of the nurse station to rounded corners, and designing handrails to facilitate patients to stand up, etc. At the same time, the furniture should be stable, solid and unshaken.
The design of hospital guide table must be firm in structure and accord with human body engineering, and the shape of hospital furniture should be simple and generous, the tone should be elegant and fresh, and the safety performance of furniture should be the highest. In fact, the humanized needs of hospital furniture also include color design.