Hospital nurse station not only responsible for patient reception, inquiry, complete the form such as separation, function, or medical personnel key interior space, the work of the nurse station more functional design, closely integrated with hospital internal natural environment and the overall color, and according to the giving of medical furniture design, delivery, such as one-stop service, to patients and medical staff to build a warm and cozy environment.
The nurse station is the site of the nursing staff's office, so that the nursing staff can get away from their roles in the daily busy work and make the nurse station into an efficient system, which is suitable for 24-hour continuous nursing services. This requires the pursuit of perfect, sound and rich function system in the design of furniture. Ensure that the nurse station to pursue perfect, high efficiency, safety of medical care. From the perspective of medical network security protection, it is also very critical. From the perspective of patients, the nurse station is also very critical to build the brand image of the hospital open to the outside world.
Hospital office furniture nurse station design scheme
I. Doctor-patient relationship platform
Patient reception, admission inquiry, guidance, steps, FAQ.
Ii. Patient treatment platform
Apply for hospitalization procedures, urge payment of hospitalization fees, accept inspection and verification.
3. Working platform for nurses
Medical history classification, advice solution, diagnosis and treatment solution, material storage, information management platform.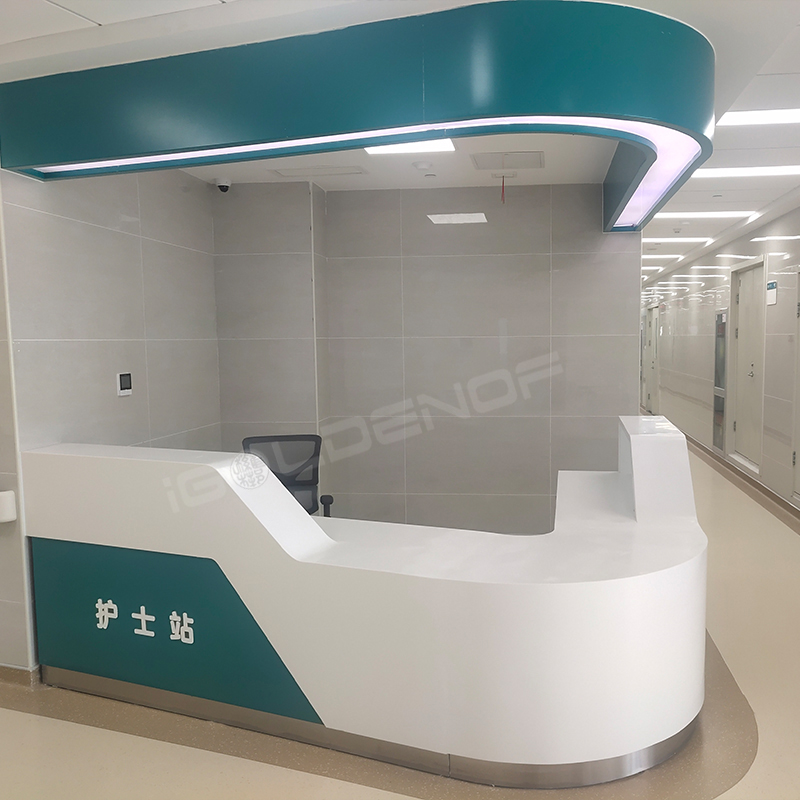 Iv. Physical and mental health publicity and planning platform
Health education knowledge, basic diagnosis and treatment, drug guide, testing guide, medical information.
Fifth, brand image display platform
The natural environment of all hospitals is harmonious and unified, and rich in changes…
In the nurses' station, consideration should be given to the placement of medical devices and objects, as well as the relative privacy and beauty of the area. Reserving of storage areas for machinery and equipment in nurses' stations; This improves the indoor storage space of the nurse station, and at the same time reduces the floor area and improves the total area characteristic of the nurse station.
Shandong iGolden Furniture Co., Ltd. was established in 2012 in Jinan City, Shandong Province which is one of the biggest professional manufacturers of furniture and board. Such as hospital furniture, bank furniture various customized office furniture,Aluminum honeycomb panel and compact laminate board. iGOLDENOF is a large-scale manufacturing enterprise integrating design, development, production and sales. In past ten years, IGOLDENOF has insisted on open-mindedness, solidarity, mutual assistance, hardworking, pragmatic and humble entrepreneurial spirit and the pursuit of excellence who has been highly recognized and appraised by customers from all over the world.