Hospital nurse station effect picture:
Nurse station, called the nurse table, also called the nurse's desk or desk. English: "Nursing station". The nurses' station is the big front desk that we see directly after entering the outpatient door of the hospital. Represents the image and grade of a hospital or medical institution, to achieve the concept of a kind and elegant.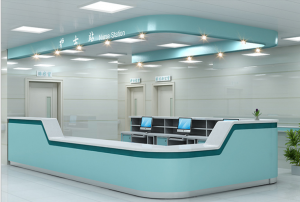 There are three types of nursing stations: curved, U-shaped and linear. Arc nurse station is suitable for the lobby of hospital outpatient building. Medical education network collecting | organizing specifications are large and small. U-shaped nurse station is suitable for the lobby of hospital ward building and other examination floors. The straight nurse station is suitable for other floors above the 2nd floor, or for ward floors with small Spaces.
Shandong iGolden Furniture Co., Ltd. was established in 2012 in Jinan City, Shandong Province which is one of the biggest professional manufacturers of furniture and board. Such as hospital furniture, bank furniture various customized office furniture,Aluminum honeycomb panel and compact laminate board. iGOLDENOF is a large-scale manufacturing enterprise integrating design, development, production and sales. In past ten years, IGOLDENOF has insisted on open-mindedness, solidarity, mutual assistance, hardworking, pragmatic and humble entrepreneurial spirit and the pursuit of excellence who has been highly recognized and appraised by customers from all over the world.
iGoldenof has professional furniture R&D and design teams. With their continuous research and development, upgrading and improvement of products, iGOLDENOF has become the designated supplier of many hospitals, nursing homes, rehabilitation centers and other medical institutions, banks, financial centers and other financial outlets.
iGOLDENOF has a complete pre-sales, sales, after-sales service groups and management system. It has five centers (R&D center, operation management center, marketing center, warehousing center, and customer service center) and two departments (design department, financial management department), that provide a strong service guarantee for our customers.