Designing a perfect reception entails a lot of work. The decor has to reflect the ideals of the company, while the layout has to be both inviting and appealing. The use of the space has to be sensible, so that both the receptionists and the visitors feel comfortable and unrestrained in their interaction.
If minimalism is not your thing, think of dramatic and oversized desks with bizarre geometric forms which would attract attention with their abstractness.
These are all important questions to consider, but one of the most common solutions is a reception desk that's from 30″ to 42″ inches high and around 14″ deep.
A well-designed reception desk can make quite the impression. Our Solid Surfaces come in various colors and are comfortable to the touch. You will be able to easily clean any coffee or juice stains and the desk will not become worn over time. Lacquer desks change color and wood eventually peels, but you will have no such problems with Solid Surfaces where the colors and patterns run the entire thickness of the surface. You can find out why our Solid Surfaces are quickly becoming the most popular option for office desks.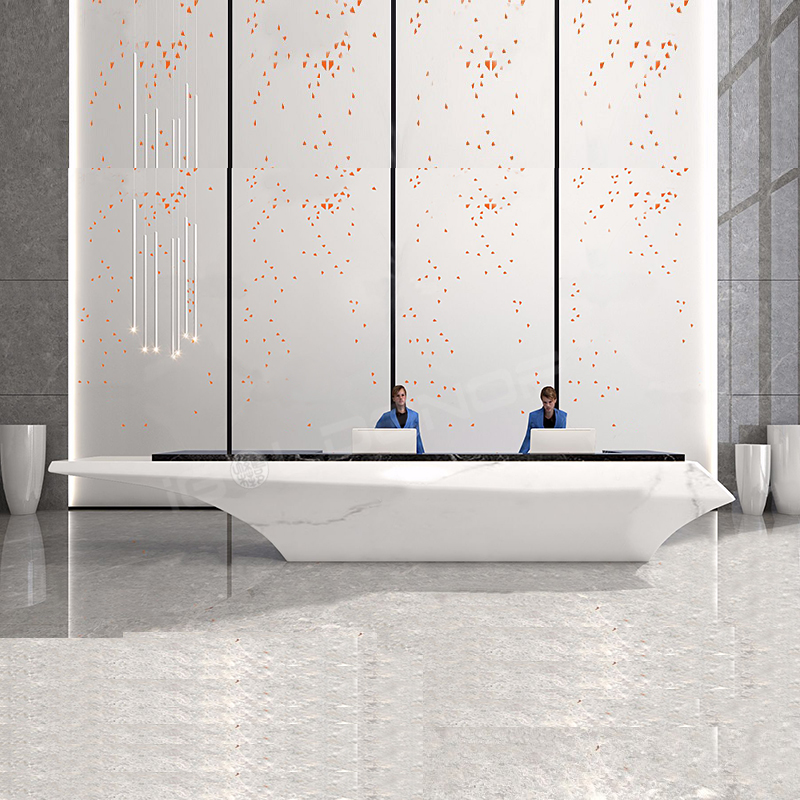 Your receptionist is part of that first impression customers receive, so you want them to perform customer service to the best of their abilities – and yes, that means providing them with a quality reception desk.
Shandong iGolden Furniture Co., Ltd. was established in 2012 in Jinan City, Shandong Province which is one of the biggest professional manufacturers of furniture and board. Such as hospital furniture, bank furniture various customized office furniture,Aluminum honeycomb panel and compact laminate board. iGOLDENOF is a large-scale manufacturing enterprise integrating design, development, production and sales. In past ten years, IGOLDENOF has insisted on open-mindedness, solidarity, mutual assistance, hardworking, pragmatic and humble entrepreneurial spirit and the pursuit of excellence who has been highly recognized and appraised by customers from all over the world.