Circular front desk design considerations
The importance of the front desk is very obvious. Investing in a good company will make your business flourish. Choosing the right option can be a difficult process, but you can narrow it down with a few considerations:
The first is the nature of the business or company. Different industries have different requirements, and that will show up on these desks. For example, a hospital needs a front desk with multiple workstations to handle more clients, while a hotel front desk needs less complexity.
The size of the space is equally important. It will determine the size of the reception desk. Small Spaces should not be overwhelmed by large pieces of furniture.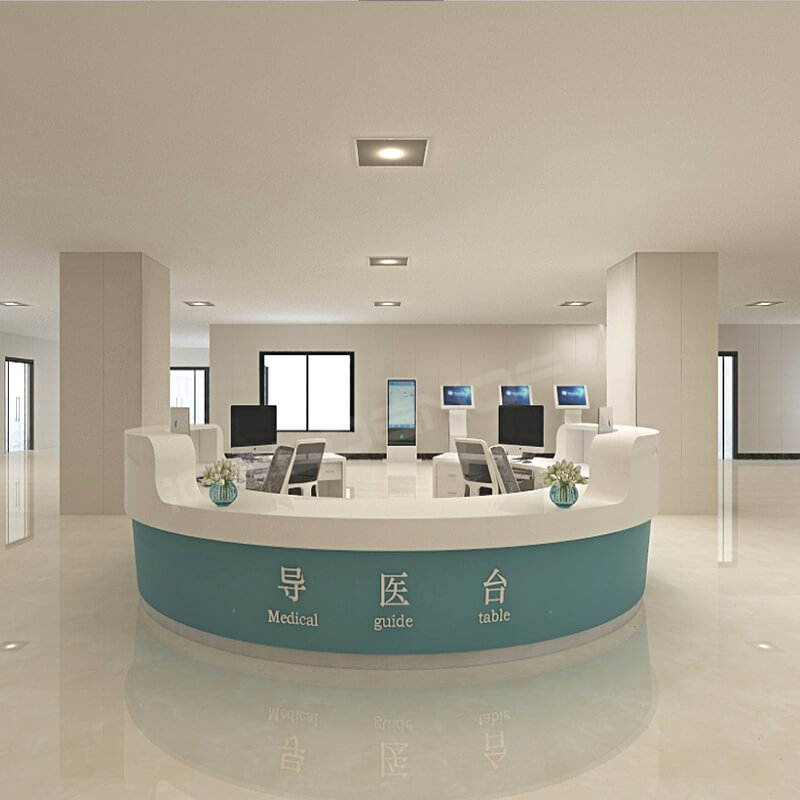 Attention should be paid to how much lighting is available. Natural lighting is always preferable, and desks should be uniquely placed to take full advantage of it.
The main functions of a desk will also help you pick the right desk. A busy company may need a full-fledged workstation. It will need enough space to accommodate all paperwork, as well as office supplies, stationery and equipment, including computers, printers and desk phones. Reception desks in service industries are mostly paperless, with low requirements for storage and work areas. In addition, these can be simpler and smaller in design.
Styling is also important because it should align with the core purpose of the business. For example, a tech company might need a more modern, abstract desk. Wood is typically the material of choice because of its availability, workability, and the warmth it brings. Glass and metal are also available.
The last important consideration is whether to buy the finished product or to customize it. Budget matters here as well as how unique you want it to be.
Shandong iGolden Furniture Co., Ltd. was established in 2012 in Jinan City, Shandong Province which is one of the biggest professional manufacturers of furniture and board. Such as hospital furniture, bank furniture various customized office furniture,Aluminum honeycomb panel and compact laminate board. iGOLDENOF is a large-scale manufacturing enterprise integrating design, development, production and sales. In past ten years, IGOLDENOF has insisted on open-mindedness, solidarity, mutual assistance, hardworking, pragmatic and humble entrepreneurial spirit and the pursuit of excellence who has been highly recognized and appraised by customers from all over the world.