A reception desk is the imposing furniture piece that gives life to the reception area. It is essentially the face of the business or company as it will more often than not have the company emblem ingrained in it. It draws attention from all who walk into the lobby. And it will be the place where data and information is shared. It needs to be of appropriate size and length, and have enough working area to satisfy users on either side.
The wood and glass combination is common in modern designs and can often come in surprising forms. The way the two materials work together feels really natural.
The principle of 'less is more' works perfectly for this seemingly uncomplicated Swedish desk. Modular reception desks work exceedingly well in limited lobby spaces. In such spaces they can be adapted to suit the needs of the reception. In this pristine example, the desk can be used individually or combined to form the most desirable variant. The work top is fixed, and like the rest of the desk, is made from a white laminate material. Its contemporary design is very simple and is adaptable to any office setting.
Choose from our large selection of Glass Reception Desks, L Shape Reception Desks, Round Reception Desks, Rustic Reception Desks and even Small Reception Desks for tight spaces ranging in styles from cool and futuristic to minimalist and contemporary to rustic with reclaimed wood to high end and luxury.
You should also consider the placement of the chosen reception desk. It's important that it doesn't disrupt the flow of the entire area, but support functionality and comfort. Since this is typically the focal point of the reception area and a welcoming station, it should be clearly visible and easily accessible.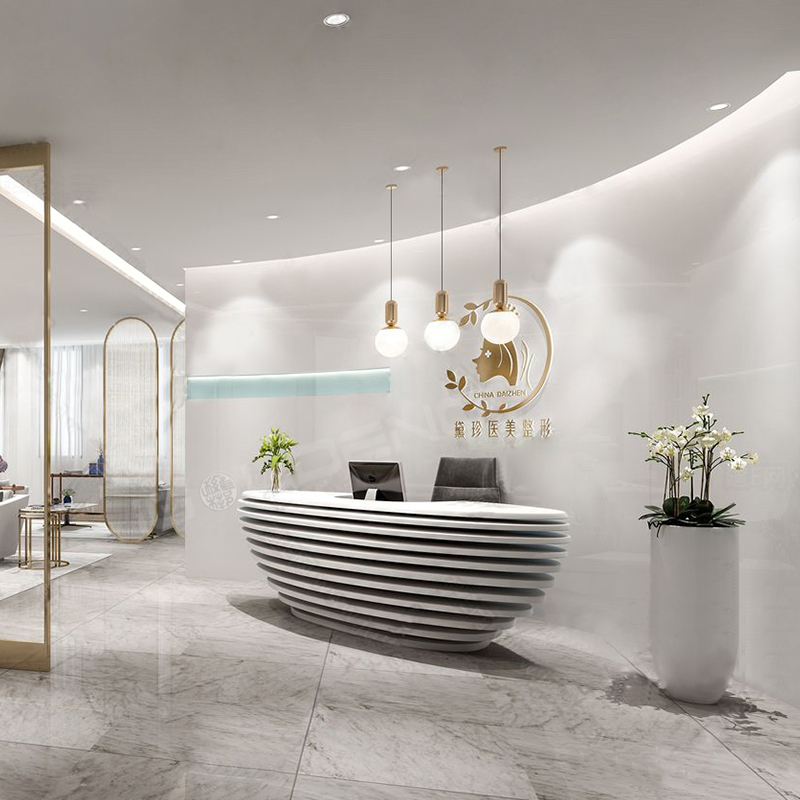 Shandong iGolden Furniture Co., Ltd. was established in 2012 in Jinan City, Shandong Province which is one of the biggest professional manufacturers of furniture and board. Such as hospital furniture, bank furniture various customized office furniture,Aluminum honeycomb panel and compact laminate board. iGOLDENOF is a large-scale manufacturing enterprise integrating design, development, production and sales. In past ten years, IGOLDENOF has insisted on open-mindedness, solidarity, mutual assistance, hardworking, pragmatic and humble entrepreneurial spirit and the pursuit of excellence who has been highly recognized and appraised by customers from all over the world.