Hospital furniture management refers to the sum of a series of work, such as the use of hospital furniture, finalizing the payment, acceptance of arrival, warehousing, allocation, maintenance, inventory and scrapping of furniture. The purpose is to better assist daily medical activities, timely coordinate with the medical staff's diagnosis and treatment needs, and better meet the needs of patients.
At present, there are three aspects of hospital furniture management in China:
First, start late
Second, outdated ideas
Third, backward management means.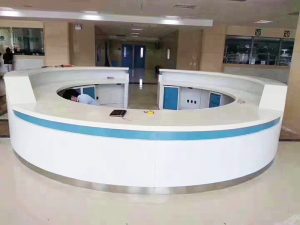 Some medical institutions pay little attention to or are not clear about the daily management of medical furniture, and do not provide timely support for the development of hospital diagnosis and treatment, fail to replace and meet the needs of doctors and patients, and indirectly form a waste of resources.
The management and maintenance of hospital furniture plays a great role in connecting the previous and the next to the medical development. Good maintenance means and methods of medical furniture, namely extending the service life of existing furniture, can also reduce the purchase of new furniture, reduce the burden of operating costs, and avoid the workload of medical staff, and support the normal operation of front-line.
Shandong iGolden Furniture Co., Ltd. was established in 2012 in Jinan City, Shandong Province which is one of the biggest professional manufacturers of furniture and board. Such as hospital furniture, bank furniture various customized office furniture,Aluminum honeycomb panel and compact laminate board. iGOLDENOF is a large-scale manufacturing enterprise integrating design, development, production and sales. In past ten years, IGOLDENOF has insisted on open-mindedness, solidarity, mutual assistance, hardworking, pragmatic and humble entrepreneurial spirit and the pursuit of excellence who has been highly recognized and appraised by customers from all over the world.