Today, shandong Guozhijing hospital treatment cabinet manufacturers to introduce the treatment room cabinet design, treatment cabinet manufacturers according to raw materials, important stainless steel plate, stainless steel plate bottom electrostatic spraying, steel electrostatic spraying, wood, solid wood, etc.; According to the color, it is important to have all stainless steel plate color, dark blue, green, gray, dark blue and gray multicolor and other kinds of electrostatic spray color, product color can be very profitable considering the requirements of consumers. Let's take a look!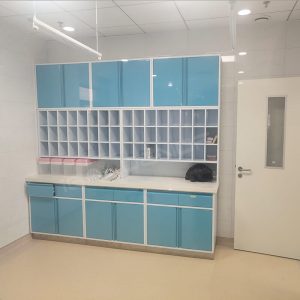 Treatment cabinet customization
  Medical staff are the main users of hospital treatment cabinets. They should adhere to the central idea of human text. The light in the treatment room should be bright and soft, the indoor ventilation should be good, and the ground should be anti-skid.
  The hospital treatment cabinet has multiple open lift doors or sliding doors. The horizontal and vertical baffles of the inner layer are designed according to different uses, which is conducive to the storage of various surgical experiment products and supplies according to the needs of medical staff. The inner body design is simple and effective. Can be made according to customer requirements to meet the requirements of purification operating room equipment containers of various sizes of appliance cabinet key, with drawer cabinet, drawer instrument cabinet, glass cabinets, sliced ark, la piece of ark, cold tank, gather medicine cabinet, cabinet, sterility testing embalm wardrobe, disinfect cupboard, cabinet, door shoe rack, lockers, western medicine cabinet, etc.
  Shandong Guozhijing Furniture Co., Ltd. is a large-scale specialized manufacturer of medical furniture such as treatment cabinet and disposal room. We adopt the international popular open new concept, committed to provide customers with medical furniture overall solution. Guozhijing has entered the overall planning of modern medical space in China and the field of medical system furniture supporting business, taking the company's strong product research and development and production capacity as the development platform, relying on professional quality service team, to provide customers with professional personalized services.
  The above is shandong guozhijing hospital treatment cabinet manufacturers for you to introduce the content of the treatment room cabinet design, I hope to help you!
  Guojingjing can be customized according to the on-site size provided by customers. Friends who want to customize hospital office furniture can contact us!
  The above part of the content for online collation, only for reference, such as this site articles related to copyright and other issues, please contact this site, we will deal with as soon as possible!