Make sure the nurse station is designed in a way that allows employees to see what's going on in the facility.
Information overload leads to confusion, fatigue and disorganization. The nurse station environment needs to support many different types of information exchange, but must do so strategically: Maintaining patient privacy, planning for a reduction of noise and clutter, appropriate lighting levels and a variation of physical and acoustic characteristics all contribute to reduced info-overload.
Your nursing station is the heart of your practice. It might become the bottleneck of your operation when not correctly designed. The following are the principles that you should center on when picking the design of a nursing station in your practice.
The Impact of Nursing Station Layouts|Nurse Station Design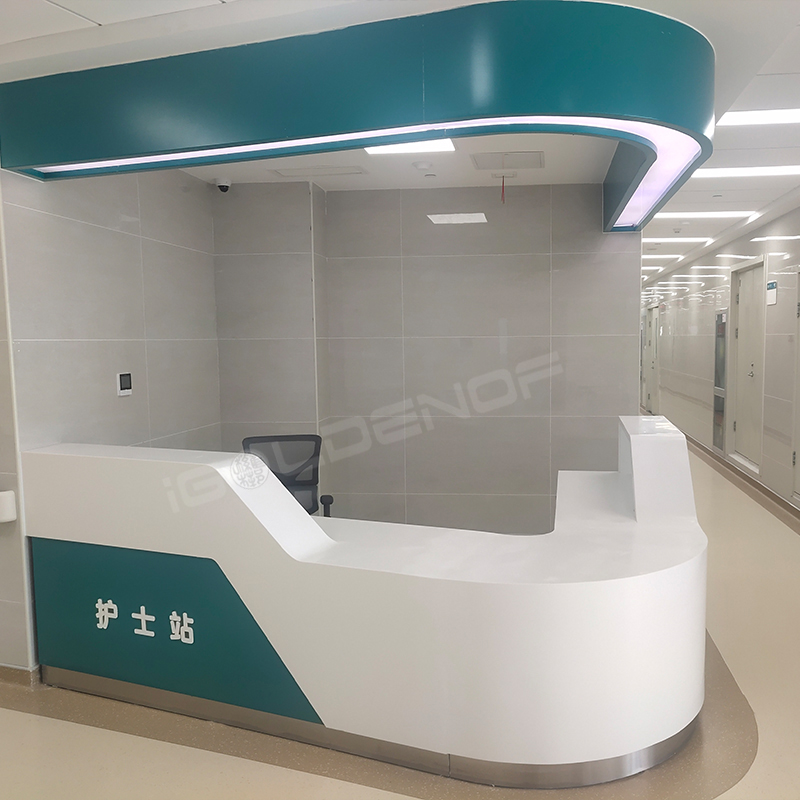 Healthcare environments must be rigorously cleaned and maintained. That's why we designed Commend's prefab form to have minimal seams in its surfaces.
As a special public environment, the hospital only needs to meet the technical requirements, especially the layout of the hospital nurse station, to facilitate the communication between patients and medical staff. According to the characteristics of the hospital's indoor environment, it is mainly convenient for patients and medical staff to use.
Many facilities report that they have had serious incidents of patients climbing over Nurse Station counters to physically attack staff members. This often leads to enclosing them with something that looks like a bullet-proof bank teller glass enclosure.
Shandong iGolden Furniture Co., Ltd. was established in 2012 in Jinan City, Shandong Province which is one of the biggest professional manufacturers of furniture and board. Such as hospital furniture, bank furniture various customized office furniture,Aluminum honeycomb panel and compact laminate board. iGOLDENOF is a large-scale manufacturing enterprise integrating design, development, production and sales. In past ten years, IGOLDENOF has insisted on open-mindedness, solidarity, mutual assistance, hardworking, pragmatic and humble entrepreneurial spirit and the pursuit of excellence who has been highly recognized and appraised by customers from all over the world.