Semi-electric bed. The head and foot portion of these beds can be lowered and raised using an electric motor. The height of the bed still needs to be adjusted using the hand crank. Patients and/or their caregivers can adjust the bed using a button. This is ideal for patients that don't need to adjust the bed often, but can benefit from the convenience of simply pushing a button to adjust it.
Hospital beds usually have three features that are distinct from other beds: side rails, wheels, and IV poles. The side rails are essential for the safety of people who cannot get in/out of the bed without assistance. They're also useful when transporting the user; the wheels on hospital beds make transporting the user possible without having to move them off of the bed. IV poles are convenient for people who need an IV for medication or hydration; the pole lets you place the bag with the bed and keep it right where it needs to be.
Semi-Electric Hospital Bed|Buy Adjustable Hospital Bed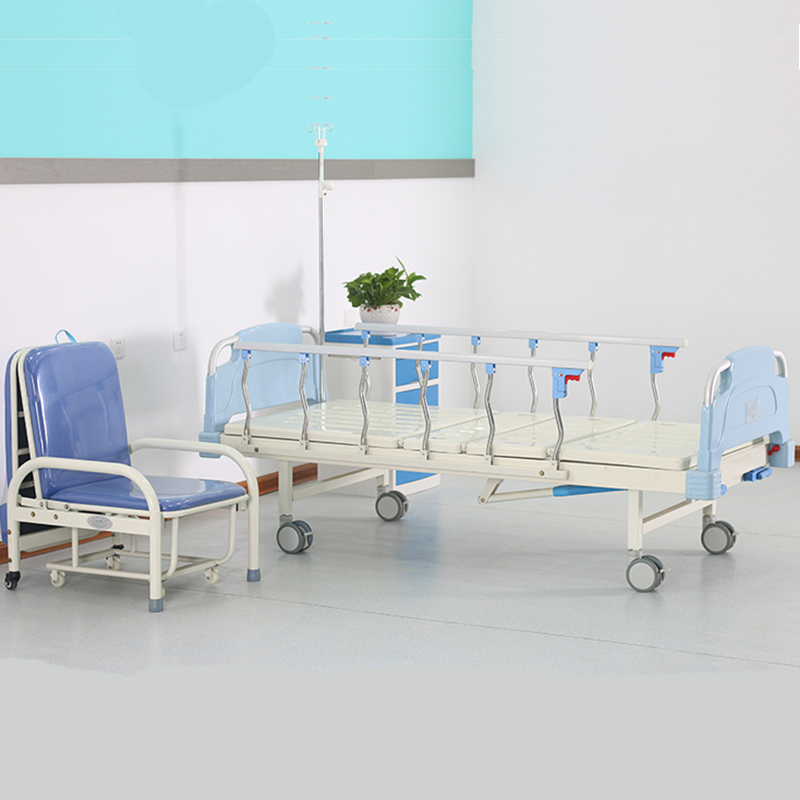 Most manual beds can be raised to make it easier for caregivers to help you. The bed may also be lowered to make it easier for you to get in and out of bed. A manual bed may be very difficult for a person who has limited hand or arm strength to use. You may good hand strength to turn the cranks. A person with a back condition or knee problems may also have trouble. A person may need to bed or kneel to use the bed cranks.
It's hard to imagine replacing your dresser with a patient lift, your nightstand with a commode, your sofa with a geri chair and your bed with a hospital bed… In many situations, you may want to avoid it altogether, but you know that this is what's best for yourself or your loved one.
Manual hospital beds need to be moved or adjusted by using hand cranks. This may be difficult if you have limited hand or arm strength. If you are unable to do this, you will need to ask someone to help you. The cranks are located at the foot or head of the bed. Manual beds may not move to as many positions as electric beds.
Shandong iGolden Furniture Co., Ltd. was established in 2012 in Jinan City, Shandong Province which is one of the biggest professional manufacturers of furniture and board. Such as hospital furniture, bank furniture various customized office furniture,Aluminum honeycomb panel and compact laminate board. iGOLDENOF is a large-scale manufacturing enterprise integrating design, development, production and sales. In past ten years, IGOLDENOF has insisted on open-mindedness, solidarity, mutual assistance, hardworking, pragmatic and humble entrepreneurial spirit and the pursuit of excellence who has been highly recognized and appraised by customers from all over the world.