The Nurses' Station finishes and design were carefully considered. Durable, easy-to-clean materials were a priority. A handrail was cleverly integrated within the architecture to feel less 'hospital-like,' and specialty lighting was tucked within them to contribute to the ambiance of the space.
The nurse station is the fulcrum of activity on the inpatient hospital floor. At some point, virtually every hospital function intersects at this critical junction, often simultaneously, with various meetings occurring among a wide cross-section of hospital staff. This intensive and varied use presents a set of complex and challenging issues for hospitals and the people that help them effectively plan for new or renovated facilities.
Nurses Station Designs to Consider|Nurse Station Design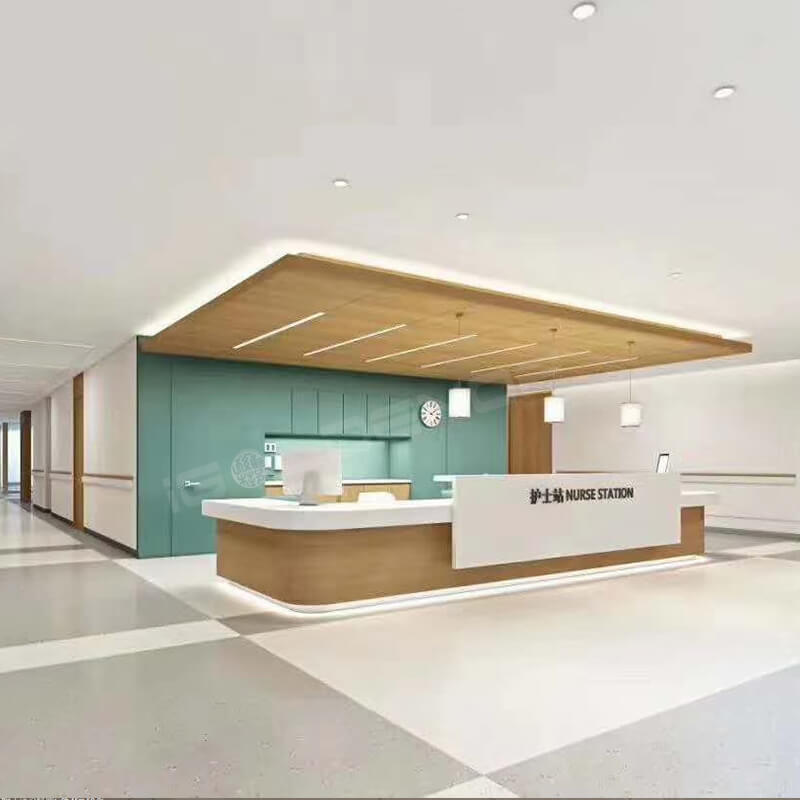 Decentralized nursing stations are made up of several, small nurse alcoves throughout the patient floor. In some cases, an area is dedicated to staff to conduct focus work and administrative duties. Decentralized nursing stations are perfect in settings where patients require immediate attention like an intensive care unit. Postpartum departments also benefit from decentralized nursing stations due to the attentive needs of patients.
You should leave enough room behind the nursing station for your staff to move around and for the storage of essentials like emergency medication. Enough space in front of the station ensures adequate space when people are being served. The nursing station should also be designed in a manner that leaves the lines of sight intact. This means nurses should see everything happening around them without having to strain their necks when seated.
A decentralized nurse increases productivity, patient satisfaction, and safety. This is especially useful for inpatient healthcare facilities and others providing extended patient care. Senior living centers, rehabilitation clinics, and oncology treatment centers would benefit most.
Shandong iGolden Furniture Co., Ltd. was established in 2012 in Jinan City, Shandong Province which is one of the biggest professional manufacturers of furniture and board. Such as hospital furniture, bank furniture various customized office furniture,Aluminum honeycomb panel and compact laminate board. iGOLDENOF is a large-scale manufacturing enterprise integrating design, development, production and sales. In past ten years, IGOLDENOF has insisted on open-mindedness, solidarity, mutual assistance, hardworking, pragmatic and humble entrepreneurial spirit and the pursuit of excellence who has been highly recognized and appraised by customers from all over the world.