Our lab islands are never cookie cut, mass produced or a one-size fits all. We make lab islands to fit your configurations and design. Our simple and modular system is reconfigurable and saves you from costly renovations. Units have available space for casework, umbilicals and nozzles, as well as electrical outlets and other accessories you may need.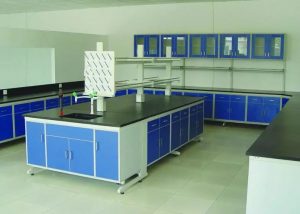 Every lab is different. If you have a surface in mind or need assistance picking an optimal surface, we can help.
ach of our flex systems is built to specification in our factory, which guarantees maximum quality control. Our in-house installation team will deliver a fully assembled unit directly where you need it installed.
Chemicals, moisture, heat, and impact can all vary greatly from project to project. From stainless steel, to phenolic resin and epoxy resin, we offer chemical and odor resistant finishes that endure spills and stave off corrosion.
We build everything for your laboratory, industrial or commercial facility, to your exact specifications and to perfectly fit your space. Which means we control quality and can guarantee customer satisfaction.