The rows of steel chairs in the hall were stiff and cold with memories of hospital visits. And the waiting chair of the outpatient department, the back of the chair is plastic, it is also difficult to light up the mood of the patient and accompanying family members.
Medical furniture attaches more and more importance to the concept of humanistic medical treatment now, and it is time to break the misunderstanding of "medical furniture = ugly and uncomfortable". For the configuration of medical furniture, we sorted out a list, mainly considering dimensions, materials, styles and humanization.
1, dimension
The scale of medical furniture should be adjusted appropriately, including seat depth, armrest height and chair height, in addition to determining the size of the furniture according to the space and use requirements, considering the people in different activity Spaces, so as to ensure convenient and comfortable use. For example, multiple seats could be placed in the waiting area depending on the physical characteristics of obese patients. The scale of medical furniture should also be flexible and can be adjusted and combined according to actual needs to meet the needs of different situations.
2. Material.
It is an important consideration for medical furniture materials to meet the requirements of hospital sense management and reduce surface contamination. The surface of medical furniture should be smooth, easy to clean and disinfect, and has good corrosion resistance and bacteriostasis. In addition, medical furniture materials are required to be green, do not release harmful substances, and can be recycled. Generally speaking, the materials of medical furniture are mainly metal (stainless steel, electrolytic steel plate, aluminum alloy), composite materials (artificial stone, physical and chemical board, fire prevention board, anti-double plate), engineering plastics (ABS, PU) and wood.
Foyer and other foyer such a person flow space, furniture should be waterproof, moisture-proof, anti-fouling, wear-resistant, easy to clean surface,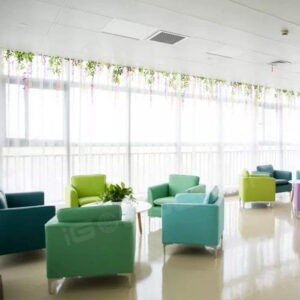 3. Style.
The style of medical furniture with safety as the basic standard, to reduce falling and damage, requires stability, stability, shape structure safety, avoid sharp corners. Specifically, the seat should be reclined at a reasonable Angle so that the patient does not tip over while standing or sitting. If it is rolling furniture, there are lock rollers or casters.
In addition, the selection of medical furniture also needs to consider space function, users, environmental characteristics, cost and other factors.
4. Humanization.
In addition to satisfying the spatial function, the configuration and layout of medical furniture should also consider the usage habits and special needs of medical staff and patients.
In addition to the above four comprehensive considerations, follow-up matters also include site resize, furniture proofing and production, as well as site layout.