Hexagonal shapes in nature, such as honeycombs, create structures that distribute force evenly, making the structures of the hexagonal shape mutually supportive. With these mutually supportive inner structures, honeycomb panels can withstand high winds and shocks such as earthquakes. Other benefits of honeycomb panels are the panels can pack more structure cells in a space because of the hexagonal shapes. The panels are lightweight because they need fewer materials but have more area. Thus, the panels are easy to transport and have easy installation.
Our aluminum panels are made from aluminum honeycomb core expanded into a hexagonal structure sandwiched by the aluminum facings which are then bonded together by a layer of adhesive. Sandwich panel sutilizing aluminum honeycomb cores result in lightweight, high strength structures that are very rigid. Aluminum honeycomb panels have the best strength to weight ratio of any construction available.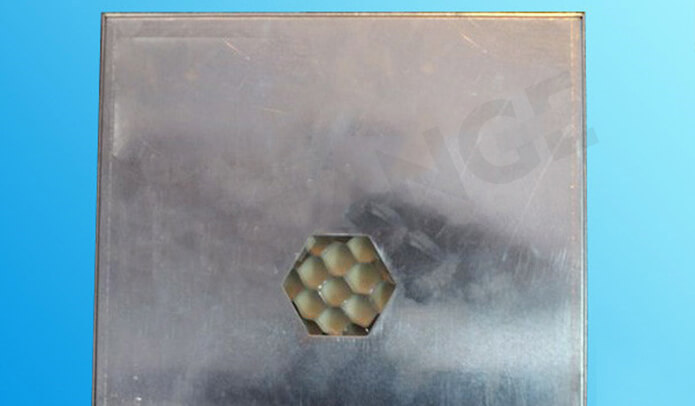 Our honeycomb panels are now being used in countless commercial applications where strength, flatness and lightweight is needed. From the construction industry to high-end engineering systems, our honeycomb panels are a cost effective option for any related venture. Honeycomb panels can be used for commercial budilding decorations,wall claddings and facades, display panels, whiteboard panels, cleanroom panels, ship building panels, furniture panels and anywhere lightweight sandwich panels are required.
Even if the size of aluminum honeycomb plate is large, it can reach a very high straightness. The honeycomb core in the sandwich panel is divided into many closed chambers, which prevents the air flow and greatly blocks the heat and sound wave. Therefore, aluminum honeycomb sandwich panel has the effect of heat insulation, heat preservation, sound insulation, and the thermal conductivity is 0.104-0.130w/m.k., which is an ideal energy-saving material.
Aluminum honeycomb insulated wall panel has been widely used in building exterior wall decoration because of its light weight, high strength and high stiffness. The aluminum honeycomb with the same stiffness weighs only 1/5 of the aluminum plate, 1/10 of the steel plate. Take a aluminum honeycomb of 15mm thickness for example, top aluminum sheet is 1.0 mm, bottom aluminum sheet is 0.8 mm, the weight of it is only 6 kg/m2.
Shandong iGolden Furniture Co., Ltd. was established in 2012 in Jinan City, Shandong Province which is one of the biggest professional manufacturers of furniture and board. Such as hospital furniture, bank furniture various customized office furniture,Aluminum honeycomb panel and compact laminate board. iGOLDENOF is a large-scale manufacturing enterprise integrating design, development, production and sales. In past ten years, IGOLDENOF has insisted on open-mindedness, solidarity, mutual assistance, hardworking, pragmatic and humble entrepreneurial spirit and the pursuit of excellence who has been highly recognized and appraised by customers from all over the world.