Many different industries use honeycomb panels even outside of construction such as aviation and transportation. For example, honeycomb structures are used for aircraft wings, train bulkheads, and floors, the exteriors of cars, and car doors.
Interior decoration uses honeycomb panels as screen dividers and soundproof panels. Due to its lightweight nature, honeycomb panels are incorporated into mobile homes or other structures that are temporary or extra buildings, ("portables") for schools, churches, and other organizations.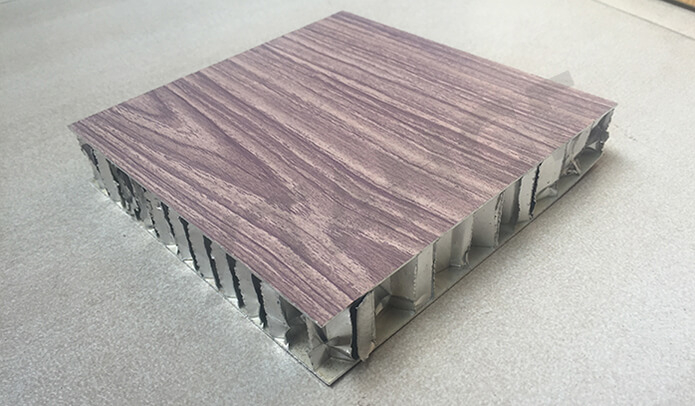 The aluminum honeycomb panel is a sandwich panel consisting of two aluminum plates (generally 1100 and 3003) as face sheets and hexagonal aluminum honeycomb cells as the core material, bonded together by aviation-purpose epoxy adhesive film. This type of sandwich panel is the most widely used honeycomb panel, utilized in building facades, ceilings, decorations, furniture and more.
Aluminum honeycomb panels have a high strength to weight ratio. These panels have a mixture of cell shapes that are geometrically paired with foil thickness and cell size. As honeycomb panels, the aluminum materials are in block forms that are not expanded and stretched to form sheets. The benefits of aluminum honeycomb panels are they are strong and flexible. Aluminum honeycomb panels are corrosion resistant, have elevated temperature performance, and are fire-resistant. These panels will not absorb moisture and therefore are fungus resistant. Aluminum honeycomb panels can be easily machined and formed.
Shandong iGolden Furniture Co., Ltd. was established in 2012 in Jinan City, Shandong Province which is one of the biggest professional manufacturers of furniture and board. Such as hospital furniture, bank furniture various customized office furniture,Aluminum honeycomb panel and compact laminate board. iGOLDENOF is a large-scale manufacturing enterprise integrating design, development, production and sales. In past ten years, IGOLDENOF has insisted on open-mindedness, solidarity, mutual assistance, hardworking, pragmatic and humble entrepreneurial spirit and the pursuit of excellence who has been highly recognized and appraised by customers from all over the world.