A centrally located station with patient rooms and therapy stations radiating out from it is often a convenient choice, but some facilities may be better served by having the station located near the front so that employees can see patients as they enter.
Many facilities report that they have had serious incidents of patients climbing over Nurse Station counters to physically attack staff members. This often leads to enclosing them with something that looks like a bullet-proof bank teller glass enclosure.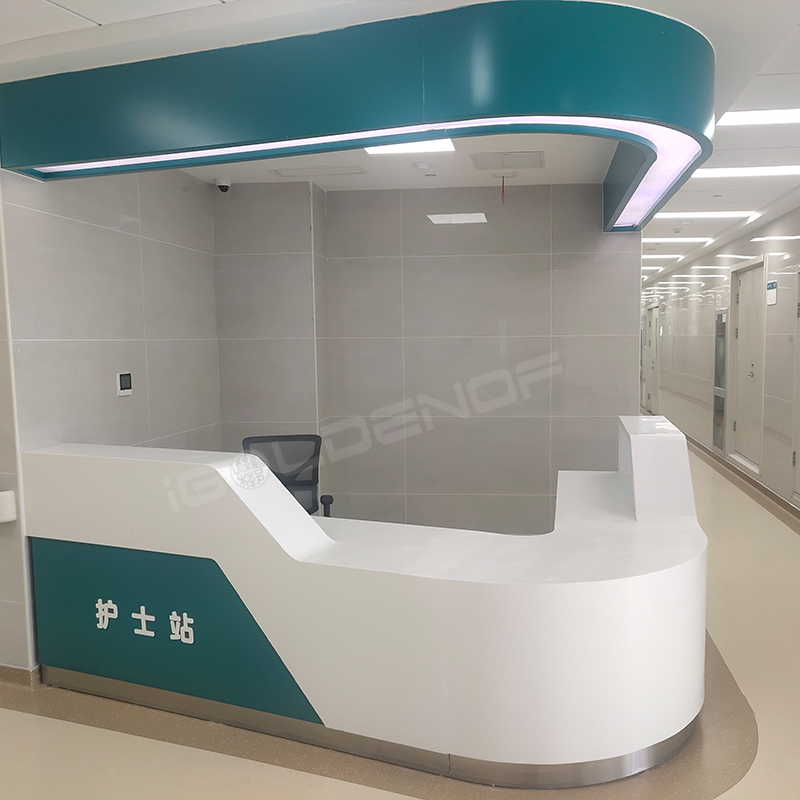 The design of the nurse station should fully consider the flow of people in the hospital, and the overall design should be clean and strictly exchange points, reduce the cross-infection of the internal environment of the hospital, ensure a clean environment in the hospital family, and improve the efficiency of the hospital nurses.
While many hospitals won't be able to offer nurses much more personal space, they can better protect them within their existing spaces by making mechanical changes that increase positive pressure and air exchange in hallways and other key spaces.
Decentralized nurse stations can provide increased patient care and satisfaction, that walking distances for nurses did not differ between the two types of nurse station, and there were disadvantages for decentralized nurse stations in terms of reduced perceptions of teamwork, reduced communications with peers, and increased feelings of isolation.
Shandong iGolden Furniture Co., Ltd. was established in 2012 in Jinan City, Shandong Province which is one of the biggest professional manufacturers of furniture and board. Such as hospital furniture, bank furniture various customized office furniture,Aluminum honeycomb panel and compact laminate board. iGOLDENOF is a large-scale manufacturing enterprise integrating design, development, production and sales. In past ten years, IGOLDENOF has insisted on open-mindedness, solidarity, mutual assistance, hardworking, pragmatic and humble entrepreneurial spirit and the pursuit of excellence who has been highly recognized and appraised by customers from all over the world.